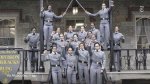 http://www.nytimes.com/2016/05/11/u...ist-photo.html?smid=tw-nytimes&smtyp=cur&_r=0
Wow. The bowing to the left continues.
It is against regulations to engage in political activity while in your dress uniform. Period.
The Superintendent of the Academy reviews the circumstances and concluded that it was all an innocent prank with no political overtones, and merely represented a sense of "unity". yeah......right
Nothing like a good double standard in order to keep things politically correct. We must ignore the obvious; look at a picture and ignore basic rational thinking. That's what the nation has become.
Last edited: