Joined

Feb 26, 2012
Messages

56,981
Reaction score

27,029
Location
Gender

Male
Political Leaning

Private
AMMAN/LONDON (Reuters) - Russian President Vladimir Putin, arriving in Britain ahead of an international summit set to be dominated by disagreement over the U.S. decision to send weapons to Syria's rebels, said the West must not arm fighters who eat human flesh.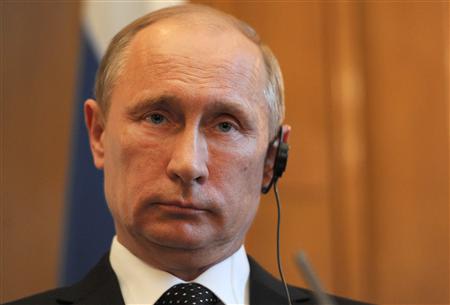 After meeting Cameron in London, Putin said Russia wanted to create the conditions for a resolution of the conflict.
"One does not really need to support the people who not only kill their enemies, but open up their bodies, eat their intestines in front of the public and cameras," Putin said.
"Are these the people you want to support? Are they the ones you want to supply with weapons? Then this probably has little relation to the humanitarian values preached in Europe for hundreds of years."
The incident Putin referred to was most likely that of a rebel commander filmed last month cutting into the torso of a dead soldier and biting into a piece of one of his organs.
After meeting Putin, Britain's Cameron said the divide between Russia and the West over Syria could be bridged, although they disagreed about who was at fault.
"What I take from our conversation today is that we can overcome these differences if we recognize that we share some fundamental aims: to end the conflict, to stop Syria breaking apart, to let the Syrian people decide who governs them and to take the fight to the extremists and defeat them.".....snip~
Putin says West arming Syrian rebels who eat human flesh
It would appear that the Russians are willing to back down despite Putin's Words
. What a bunch of Wuss-asses. They have the upper hand. They have troops and Ships in Syria. They could have punched major holes in the Sunnis' plans while sticking it to the Europeans and us at the same time. No way The Brits or France nor us would make a move if Russia was to throw up defenses.
IMO if I was the Russians. I would take out Idris and any Command Officers inside Turkey. Teach those Defectors about the Basics of Leading a Rebellion from the back of the Bus. Try getting out in front of their troops and Leading by example. Course this would put a major dent into the West and the Sunnis plans. Moreover there would be nothing any could do if it were to happen. The West would bitch and moan for a while. But then they would move off to other things.
Here the Media says the Russians are furious. Then comes back with Putin saying things can be worked out. If the Russians were actually furious over this. Then actions speak louder than words. Still the reporter shouldn't claim what isn't true.