What great way to kept them out of your town, just increase the minimum wage.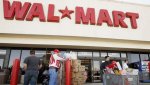 Walmart says it will cancel its plans to build three new stores in D.C. if local lawmakers approve a bill that would force the retailer to pay its employees at least $12.50 an hour.
Alex Barron, a regional general manager for Walmart U.S., writes in an op-ed published in the Washington Post Tuesday that the company feels the D.C. Council's proposed "living wage" legislation "would clearly inject unforeseen costs into the equation that will create an uneven playing field and challenge the fiscal health of our planned D.C. stores."
Walmart currently has three other new stores under construction in the area, and Barron says those stores will also be jeopardized if the bill passes.
Read more:
Walmart says it will kill plans to build 3 new stores if DC wage bill passes | Fox News
​




​


​