Joined

Jun 9, 2010
Messages

5,187
Reaction score

4,255
Location
Gender

Male
Political Leaning

Moderate
... the election in Germany has one big winner: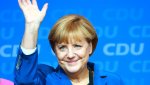 Angela Merkel and her center-right Christian Democrats (CDU/CSU) became clearly strongest party with 41.5% of the votes, more than 15% of the votes ahead of their challenger, Peer Steinbrück's center-left Social Democrats (SPD) at 25.7%!
So the new Chancellor will be the old Chancellor: Merkel is as successful and powerful as never before and will continue for a 3rd term.
But maybe Merkel was *too* successful: Her CDU/CSU cannibalized their junior partner of the past four years, the moderately libertarian Free Democrats (FDP). That party was shattered and destroyed, fell from strong 14.6% in 2009 to weak 4.8% of the votes now -- and is kicked out of the federal parliament for the first time ever since 1949! (A party needs at least 5.0% of the votes to be represented.) Merkel's CDU/CSU sucked up more than 2 million voters from the FDP.
So Merkel will have to find a new junior partner -- her CDU/CSU is missing just three seats in the government to be able to govern all alone (which is totally incredible all in itself: The last time, a party won a majority on its own and didn't need a junior partner, was in 1957 with Konrad Adenauer!).
Ironically, this success is bitter for Merkel after all: There are no center-right coalition partners available, but Merkel will have to rely on a left-of-center party for a coalition: Either the center-left SPD (like in her first term 2005-09), or on the progressive-environmentalist Green Party.
Another remarkable outcome is the fact that a newcoming party, the conservative anti-euro currency party "Alternative for Germany" (AfD), which had just been founded in April, immediately reached 4.7% and only narrowly missed entering the parliament.
Here the official result:
Party (leaning): votes in % / gains and losses compared to 2009 / seats:
Christian Democrats CDU/CSU (center-right): 41.5% / + 7.7% / 311
Social Democrats SPD (center-left): 25.7% / +2.7% / 192
Left Party (socialist): 8.6% / -3.3% / 64
Green Party (progressive-environmentalist): 8.4% / -2.3% / 63
Below 5% and thus no seats in the parliament:
Free Democrats FDP (moderately libertarian): 4.8% / -9.8% / 0
Alternative for Germany AfD (anti-euro currency and bailouts): 4.7% / +4.7% / 0
Pirate Party (internet freedom and transparency): 2.2% / +0.2% / 0
National Democrats NPD (neo-Nazis): 1.5% / +-0.0% / 0
Free Voters (centrist): 1.0% / ? / 0
all others below 1.0%.
That's (approx.) what the new parliament will look like: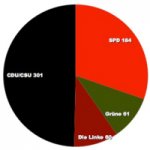 As you can see, Merkel's CDU/CSU *almost* has a majority on their own.
What happens now? The next days, Merkel will probably start talks with the SPD and Greens to find a new junior partner. That will not be easy for her: The Greens are very unlikely to join Merkel, because the differences and animosities between both parties are just too big. But also the SPD is reluctant to join another "grand coalition" under Merkel, because last time they did that 2005-09, it caused them to lose more than 10% of the votes in the following election.
But in the end, the SPD will probably agree to support Merkel to give her a majority. But they'll probably be a tough negotiation partner and get through many of their policies against Merkel.
In theory, the SPD could kick out Merkel and form a coalition with Greens and socialist Left Party -- the three parties have a majority of three or four seats, but the SPD has clearly promised not to cooperate with the Left Party before the election. They couldn't break this promise without the risk of being destroyed in later elections, so this is no real option.
Last edited: