This story came out only 3 weeks ago:
There are signs that some Republicans are less positive about him since the Jan. 6 assault on the Capitol. But his base holds firm, and that might be all he needs if he seeks the GOP nomination in 2024.

​

Donald Trump of 2022 does not look quite like the Donald Trump of old. One indication of this change came with the release of a new poll from NBC News. Over the course of Trump's presidency and since he left office, the poll has tracked attitudes of Republicans, asking them whether they see themselves mainly as supporters of Trump or mainly supporters of the party itself.

On the eve of the 2020 election, 54 percent of Republicans and independents who lean Republican said they considered themselves more a supporter of Trump than of the Republican Party

, compared with 38 percent who said they considered themselves more a supporter of the Republican Party. By January 2021, views were evenly divided, with 46 percent saying Trump and 46 percent saying the GOP.

The latest poll, released last weekend, shows a reversal in attitudes, compared with the pre-election 2020 survey, and a further decline from last January.

Today, 56 percent of Republicans say they are more supporters of the party than of Trump, while 36 percent say they are more supporters of Trump than the party.
In 2020, 54% of Republicans were in favor of Trump rather than the party and now that number has changed to being 56% of Republicans are in favor of the party. That is a 16% change and that is not a small deal when you consider that means that of the 81 million registered Republicans, approximately 13 million have shifted their allegiance from Trump to party.
Trump is losing his charisma in the party. He is losing some of this: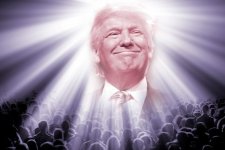 and he is becoming more of this: