Joined

Feb 27, 2013
Messages

3,114
Reaction score

1,004
Gender

Male
Political Leaning

Libertarian - Right
Brunswick, Georgia (CNN) -- Two teen boys in this coastal city were charged with murder Friday, accused in the fatal shooting of a 13-month-old boy who was in a stroller being pushed by his mother.

"A boy approached me and told me he wanted my money, and I told him I didn't have any money. And he said, 'Give me your money or I'm going to kill you and I'm going to shoot your baby and kill your baby,' and I said, 'I don't have any money,' and 'Don't kill my baby.'"

The boy tried to grab her purse and opened fire when she said tried to tell him she had no money, West said, with the shot grazing her head. She said the boy then shot her in the leg.

West continued, "And then, all of a sudden, he walked over and he shot my baby in the face."
Baby shot dead in stroller; 2 Georgia teens charged - CNN.com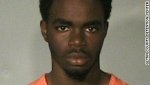 every day are over America we have stories just like this and using crime statistics Blacks are just 13 percent of the population but they commit more than half the muggings and murders in the country. So why shouldn't they be profiled why shouldn't we be suspicious of Black males it is a survival instinct Maybe if that mother profiled and crossed the street once she saw those black youths her baby will be alive today
so someone give me an argument we shouldn't we profile why shouldn't we be suspicious of black male youths and dont hand me any PC crap I rather offend someone and be alive