Respected On All Sides
DP Veteran
Joined

Jun 20, 2008
Messages

98,016
Reaction score

82,982
Gender

Male
Political Leaning

Undisclosed
Donald Trump isn't running a bad campaign. He's not really running a campaign at all.
It's become commonplace in political circles to bash Donald Trump for running a bad general-election campaign since he secured the GOP nomination seven weeks ago today. But that misses the point. Donald Trump is not running a bad campaign. He is barely running any sort of campaign at all — at least not by any definition that any political person would recognize.

Take Trump's fundraising.

He collected $3.1 million in the month of May and ended the month with $1.3 million in the bank

. Trump's campaign released a statement Tuesday insisting that "the campaign's fundraising has been incredible and we continue to see a tremendous outpouring of support for Mr. Trump and money to the Republican Party," but little evidence is available to suggest that's accurate.
Put aside those senior positions, and things look even worse. As of the end of May, Trump had 69 people on staff. Hillary Clinton had 683 people on staff.
The article is overwhelming in the difference it illustrates between Clinton and Trump's campaign. While Trump has been having a jolly time getting free press for saying ridiculous, amoral, and extraordinarily inconsistent things, that will not transform into a general election win. Meanwhile, Clinton's campaign machine was thoroughly constructed, up and running since the beginning of her primary campaign. You'd almost think she's done this before.
Consider the differences in ad spending in critical swing states: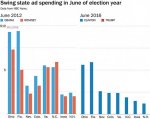 I first became aware of the claim some weeks ago that Trump wasn't actually running a campaign, but I think this article most clearly delivers the numbers that supports this theory. It's also why I am tempted to risk making a fool of myself and join the voices who say that Donald is deliberately running a failed campaign to deliver the White House to Hillary. But what do you think? After reading the article and taking in the stark contrast with Clinton's strategy, do the numbers support a picture of a campaign intended to win?
Last edited: