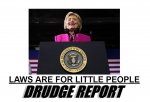 "Look, here are Comey's remarks. The material needed to attack Hillary Clinton is all there. A prosecution would be very controversial AND it would cause many people to step back and allow it to take its course — with due process and the presumption of innocence. That route is closed off, but you have the evidence in front of you and can clearly see what she did."
Althouse: I know you've had a rough day.
---
And in what is probably a common reaction:
"I am REALLLLY close to casting an [F*** You] vote for Trump. That's how bad things are." - Tweet by @neontaster
---
The Day the Rule of Law Died
And so once again the leading crime family in America skates, thumbing its nose at the rule of law as an earnest but politically clueless FBI director stands before the nation to repeat the well-worn Clinton mantra of "insufficient evidence," and to attribute to Hillary another shopworn cliche that the Clintons habitually use in their defense: sloppiness.
https://pjmedia.com/trending/2016/07/05/the-day-the-rule-of-law-died/
---
There will come a day when Democrats will wish that they had not destroyed the rule of law in this country. But it will be too late to save them.