GOP Front-Runner Trump Unpopular Even Among White Men
A Washington Post/ABC News poll this month finds that while Democratic-leaning groups like minorities and young people deeply dislike the billionaire businessman, his favorability poll numbers are underwater among voters that make up the Republican base.

The poll finds 67 percent of overall voters surveyed have an unfavorable opinion of Trump, compared to just 30 percent who say they have a favorable impression of the billionaire businessman.

Roughly similar numbers of independent voters and white women voters, dislike Trump, both groups that went for Mitt Romney over President Barack Obama in 2012...

But the shock is in just how many Republican-leaning groups, while not having an overwhelmingly negative impression of Trump, still dislike him on balance.

More than half of voters who consider themselves conservatives – 53 percent – view Trump negatively, while just 44 percent see him favorably...
Trump is upside down on White Men, 47 to 51.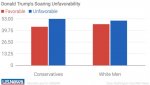 He is also, of course, massively unpopular with the general population: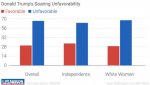 And locks Hispanics into the Democrat party as solidly as African Americans already are, guaranteeing that the GOP loses national elections for a generation: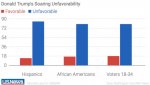 Well done, Trump supporters. You took the most winnable election for the GOP since 1984, and you managed to find the one moron who could possibly destroy it.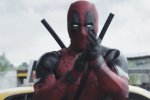 Last edited: