Joined

Nov 20, 2013
Messages

12,599
Reaction score

10,982
Location
Gender

Male
Political Leaning

Very Liberal
https://www.intellectualtakeout.org/article/how-did-america-become-nation-slobs
Go to any public arena—a sports event, a shopping mall, Wal-Mart, you name it—and you realize the standard of dress for men and women, adults and children, has reached a low point in American history. Blue jeans are de rigueur; t-shirts with slogans, some of them billboards of obscenity, assault the eyes; pajama bottoms are worn to the grocery store; restaurant patrons appear at lunch looking as if they had just rolled out of the sack; grown men wear baseball caps while eating steaks at Outback.
What does our own sloppy dress tell us about ourselves? Are we too pressed for time to dress a little up rather than way down? Are we rebelling against the idea of beauty and culture? Or are we just too lazy to pull on a pair of slacks instead of wearing the sweats we slept in?
Oscar Wilde once said, "You can never be overdressed or overeducated." No one would ever consider me overdressed—or overeducated, for that matter—but if I am now regarded as well-dressed, a man representing haute couture, then I can draw only one conclusion.

We are a nation of slobs.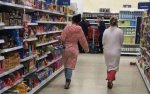 This is dead on correct, we are a nation of slobs and we should strive to be better. How can we be taken seriously by the world and be any sort of positive image when we look like we just spent a night in a dumpster.