FRONT TOWARD ENEMY
DP Veteran
Joined

Apr 18, 2013
Messages

77,932
Reaction score

62,819
Location
Gender

Male
Political Leaning

Independent
Here's how Trump's proposed Moscow project is even dirtier than it looks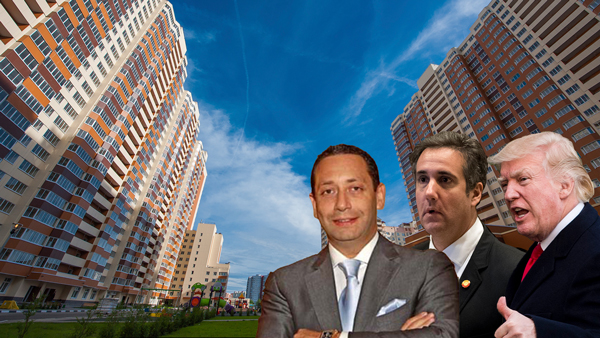 Felix Sater, Michael Cohen and Donald Trump.
12/3/18
Weirdly, it kind of makes sense that Donald Trump's supporters on Fox News and elsewhere are brushing off last week's revelations about the Trump Tower Moscow deal as a "nothingburger." This knee-jerk reaction makes sense because Trump loyalists clearly haven't been following the ongoing reporting on this story, even though Rupert Murdoch's own paper, the Wall Street Journal, has been one of many top-shelf publications covering the Trump-Russia saga in granular detail. The most realistic analysis is that Trumpers are being deliberately ignorant about a vast series of crimes with our current president at the center of a nefarious confederacy that could easily be defined as the Trump crime family. This is absolutely a somethingburger, stacked high with all the fixin's -- and we haven't really seen the lion's share of the details yet. But it wasn't just the overall hush-hush nature of the Moscow Project that poses such a threat to American national security. The true smoking gun at the center of the Trump Tower Moscow prong of the Russia story happens to be a Russian bank known as VTB. Those who haven't been following the day-to-day developments (hello, Red Hats) might not know that 60 percent of VTB is controlled by the Kremlin. It turns out that one of Trump's many shady operatives and hangers-on, Felix Sater, a Russian-born New Yorker with an office in Trump Tower, arranged financing for the Moscow Project. The money was to be put up by VTB, and Trump himself signed a letter of intent to build the skyscraper, complete with a spa facility for Ivanka Trump's brand and a $50 million penthouse for Putin (priorities, priorities). VTB's financing appears to have been locked in around October 2015, while Russia's military intelligence agency, the GRU, was busily deploying its attack against the Democrats and the forthcoming American elections.

What the nothingburger crowd won't say out loud is that VTB has been subject to American sanctions since July 2014, after Putin invaded Ukraine and seized Crimea in the wake of the Sochi Olympics. Simply put, it's illegal for any Americans or American corporations, including the Trump Organization, to do business with VTB and other entities under sanction. Trump, Cohen and Sater did it anyway. No wonder Trump and his people wanted to keep the deal secret. Sanctions were potentially violated, and Putin appears to have been bribed with a $50 million apartment. If that's a nothingburger, I'd hate to see what an actual burger looks like. Trump is publicly altering American foreign policy toward Russia in order to suit his own financial best interests. But it could be far worse than that. Trump could also be ensnared by Russian kompromat, forcing him to enact policies favorable to Putin and Putin alone (the lifting of sanctions and the penalties in the Magnitsky Act, primarily). Anyone beating the nothingburger meme to death right now isn't seeing the harrowing big picture -- the criminal and national security ramifications of Trump's ill-advised alliance with a nation whose government is run by thugs, assassins and thieves. If you're still unconvinced, go ahead and replace every instance of "Trump" in this article with "Obama" and then tell us again how it's all a big nothingburger.
Putin has Trump by the short hairs. No wonder the orange oaf trips all over himself to please the diminutive KGB Colonel.
Related:
Trump's countless scams are finally catching up to him