There are going to be some severe consequences to the reversal by the Supreme Court of Roe vs Wade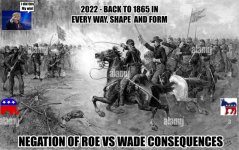 This decision is going to split our country apart in so many ways.
1) The Supreme Court decisions will no longer be respected as they can easily be overturned based on politics and not on law.
2) Women are once again are going be considered pawns to men and will revolt as it is unfair. Men should not be the ones making decisions that affect a woman's body.
3) The Democrats will gain additional strength as most women will now vote Democrat (
1 in 4 women has had an abortion by age 45
).
4) A new civil war is now likely to occur as this is a very divisive issue.
5) Our country will continue its move backward as this decision takes us back and not forward
6) China, Russia, and other countries that want our demise will use this divisiveness to attack us and gain new advantages, if not an outright win. China will attack Taiwan in the next few months and will put us with two fronts to fight for Democracy.
7) With the law no longer a thing to respect, anarchy will rise.
Take it to the bank. June 24th 2022 will be a date for history. The pivotal day in the end of the American dynasty.
Last edited: