Joined

Aug 18, 2010
Messages

93
Reaction score

42
Location
Gender

Male
Political Leaning

Libertarian
Springfield Pastor Plans To Burn Quran
Springfield Pastor Bob Old said his decision to burn the Islamic holy book on September 11 has nothing to do with the agenda of the pastor in Florida or the controversy surrounding the mosque in New York. He has his own reasons behind the demonstrations and no intentions of backing down.
"My plans for Saturday are to
take a copy of the Quran and burn it
," said Old.
He's planning to go forward with the demonstration on 9/11 to be able to make his point and have it heard.
"To the Muslim church I would say the reason I am doing on Saturday because I believe they worship a false god. They have a false text, a false prophet and a false scripture," said Old.
Springfield Pastor Plans To Burn Quran - NewsChannel5.com | Nashville News, Weather & Sports
You know at first I thought this was a bad idea, but today I'm actually feeling like burning a few korans myself. To hell with political correctness, I watch them burn bibles and American flags regularly.
I watched them dance in the streets when 3,000 dead American's lies butchered in American streets.
We were attacked by Islam, that is the common thread amongst those who want to kill us. Islam. American's where murdered by Muslim's warped by Islam's 'teachings'. Islamic morons who don't even have the intellectual capacity to take basic care of themselves, now hide Bin Laden.
And we're worried about offending them.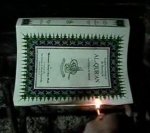 ​