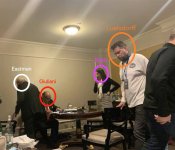 I have no proof of the following claim, but I am writing this to record a point in time. I have wondered since January of 2020, how did the riot happen? It finally occurred to me that there is a plausible and probable rationale.
So I repeat, and emphasize, the proof of this may come in the Select Committee report, and I'm placing a bet that the following is true. If it is true, and if substantial evidence is released, I will dig this up and post it elsewhere. For now, I understand, it's just a theory.
The 4-more-years gang. These are the 4 principal players.
Guiliani
Stone
Flynn
Bannon
Guiliani is the link between the WH and the riot. His discussions with trump led to his understanding that trump could not be reelected. On January 4th, 2020, all four men understood that trump had no real path to remain in office. The Democrats would vote down any objection to an EC slate, and Mike Pence refused to declare state slates invalid.
They realized the dead-end that would make Biden president. They realized there was no way to stop Biden's win.
They believed they were engaged in a mortal struggle for the soul of the nation. No action would be unjustified if trump remained president.
What were they doing all day on January 5th, 2020? They were burning up their phones in communication with each other and with U.S. Representatives.
They reasoned that force was needed. It made sense to them that no lie was too great, and no action was too corrupt if it would make trump president again. They felt that force was their only choice.
Stone was connected to the Proud Boys. Ray Epps was connected to Flynn. They recognized the difference between a shouting a raving crowed on the outside, and taking control of affairs in the Capitol interior.
That made sense to get the rioters inside the building. They reasoned this would delay the EC and allow more time for states to change their slates ( a vain hope without proof of fraud) or worse, take over the government, be supported by the U.S. Army and martial law until the Democrats surrendered. If you read about the intentions and plans of the Oath Keepers, their scenario is even crazier. But crazy doesn't matter to the 4-more-years gang. Anything that made trump president was justified.
They wanted the riot to happen because they saw no other possible way to keep trump in the White House. They had run out of legal options
If their reasoning and rationale don't make sense to you, don't forget we are talking about 4 men who engaged in every Q-nut conspiracy they ever read.
In their minds, they were heroes that would save the republic by stopping the constitutional process that would allow Biden to gain the office of the Presidency.
And that is the link between the riot and the White House and the Capitol riot, mainly and principally, Guiliani working in conjunction with trump himself.