So. I start chemo Wednesday. Get a port put in on Tuesday. The chemo will be once every three weeks for three times and then another PET scan. If it's worse, chemo stops. If the same or better, they'll keep it up as long as I want to.
ive been really busy. A trip to the boat now and then...lunches with friends and going over my "stuff" one last time.
I joined the Illinois Cremation Society yesterday. Prepaid for my cremation and filled out the myriad state required forms. The cost is $2300. That, of course, compares to a $10,000 funeral home expense. It includes transporting th body from place of death to the crematory, a fiberboard box for my body as it awaits the state's 48 hour waiting period, a tiny itsy bitsy urn for a few ashes for Tom. It's so cute. An urn that allows for scattering ashes (a regular urn seals permanently and would have to be destroyed to scatter ashes), the cremation, shipping the urn with ashes to a funeral home in Manchester, KY where my ashes will be scattered over mom's grave in the prettiest little cemetery.
Today, I went over all of my paperwork, investments etc to make sure my cousin could understand it all...wrote out a notification list for Tom and Sue on who to let know and how. Described the party I want my cousin to throw for closure for Tom since there won't be a service. Made the guest list and chose the place after a few phone calls. I actually think I'm NUTZ. Hahahaha! Oh, and I wrote my obituary.
i made packets of info for Tom and Sue and have asked them to go thru them and ask any questions they have. Ooo! And the doctor is sending in my medicinal marijuana registration. There's always a silver lining....
Tom's son and family sent this the other day...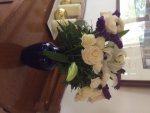 His daughter had Tom's lil' granddaughter draw a card to Gramma with love. So cute.
I've kept really busy and am close to complete peace of mind that I'm leaving things orderly. I've closed up three estates in my lifetime over the last ten years. Each one has been a nightmare. Mine won't be. And that's a good thing!
Thanks for this place to sound off!
:2wave: