Banned
Suspended
DP Veteran
Joined

Aug 26, 2007
Messages

50,241
Reaction score

19,243
Location
Gender

Female
Political Leaning

Conservative
Atlantic 5-Day Graphical Tropical Weather Outlook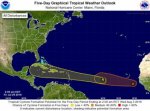 ZCZC MIATWOAT ALL

TTAA00 KNHC DDHHMM

TROPICAL WEATHER OUTLOOK

NWS NATIONAL HURRICANE CENTER MIAMI FL

200 AM EDT FRI JUL 29 2016

For the North Atlantic...Caribbean Sea and the Gulf of Mexico:

1. A tropical wave located located about 1200 miles east of the Lesser

Antilles is moving rapidly westward. Given the fast motion of the

system, development, if any, will be slow to occur. However, this

system will likely bring showers and gusty winds to portions of the

Leeward Islands during the weekend, and then, the activity should

spread westward across the Caribbean Sea.

* Formation chance through 48 hours...low...20 percent

* Formation chance through 5 days...low...30 percent

2. Shower activity associated with a tropical wave and a low pressure

system centered a couple of hundred miles south-southeast of the

Cabo Verde Islands has increased during the past several hours, but

the overall organization has changed little. This system has some

potential for development during the next day or two, before the

disturbance encounters a less favorable environment over the central

tropical Atlantic next week.

* Formation chance through 48 hours...low...30 percent

* Formation chance through 5 days...medium...40 percent

Forecaster Avila
I don't speak wxgeek Renae, translate!!!!
Alrighty then. There are two system lining up in the far Eastern Atlantic. Upper level winds, sea surface and humidity levels are all indicative of further development. While the projects seem to show systems on straight tracks towards south Florida and the Gulf of Mexico let me point out a couple of things.
It's a 5 days+ out on the forecast. Anything over 5 days is pure speculation on the forecasters part. Trust me. I would maybe go over evac plans with the family, check your hurricane supplies if you are anywhere on the Eastern Sea board. Which is always a good thing to do before Hurricane Season and of course, when possibilities start to flare up. If you have a Caribbean Cruise for next weekend, I wouldn't even cancel. I would maybe call my travel agent and look into the refund/rain check process. But that's if I haven't anything better to do.
The point of this is to let folks know something stirs in the deep Atlantic. Please, if you LIVE on the Eastern Sea Board... bookmark
National Hurricane Center
Don't wait for the Weather Channel to alert you, those people are idiots. Be wxwise.
I'll update this thread as the storms demand it.