I identify as "non-Bidenary".
DP Veteran
Joined

Jul 22, 2013
Messages

2,672
Reaction score

1,338
Gender

Male
Political Leaning

Independent
It wasn't til 2011 that I discovered LED flashlights, although I had purchased an LED headlamp in early 2007 for backpacking. Then, while surfing the internet, I discovered a forum dedicated to flashlights, headlamps, home lighting, batteries etc. Its called candlepowerforums, and it's a great resource for anything and everything related to lighting, battery related technical info/advice, and much more. I had never previously carried any light with me. Now that I do, I use it at least 1-2 times every day, or more. Due to a client energency, I was late to finish painting another client's door trim, and ended up using my light for an hour to see what I was painting.
There are some cheap, low quality LED lights advertised in cheesy, over the top commercials on TV and online, they should be avoided. You'll know one when you see the ad. It'll probably have some ridiculously over-the-top name, like "Seal Team 6 Spec-Ops Tac-Master M9000", or some-such nonsense! It'll also be garbage, and contrary to the ad's claims, Seal Team 6 are NOT carrying them!! Lol
I learned that, in 2011, you could buy a flashlights that ran on 1 AA or 1 CR123 battery that were roughly 10x brighter than a bulb style 2-3 D cell Maglight(220-270 lumens vs 25 lumens). Now they make lights of that same size, or smaller, that put out 2-3x more lumens(500L to 900L). Back then I bought a Jetbeam BC-10 for $37, that ran on 1 CR123 battery for 270L. I carried it in my pocket daily for 14 months, til I decided to purchase a Zebralight SC52, which ran on 1 AA or 14500 Lithium Ion cell, for between 220-450L. I carried it daily for over 2 years til I lost it.
I can tell you first hand that you WILL be glad you started carrying a decent LED light, and you'll use it far more than you think. I'd recommend NOT buying one from a local home center or department store. I've had good luck with Jetbeam, Thrunite, Zebralight(dumb name, I know), Eagletac, Fenix, Olight etc. If interested in a light, visit candlepowerforums or budgetlightforums and read up on the info. There are endless YouTube reviews for any decent light you can think of.
I actually began collecting LED lights in 2011 of all sizes and battery types. I ended up not using 90% of them ever, so I gave away 50% and sold another 20% of them. So in March, I bought a new everyday pocket light, the Jetbeam Jet II mk. It accepts either a single CR123 disposeable "primary" battery, or a rechargeable 16340 lithium ion battery, which is the battery that was included with the light for $30. Its under 3" long and 3/4" diameter, with 4 brightness settings from .5L moonlight to 510L high. I've had it in my front right pocket every day, being scratched up by my keys for 8-12 hours daily, for 9 months, but it's hard anodizing has held up. Here it is: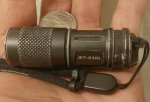 Last edited: