Joined

May 6, 2016
Messages

1,888
Reaction score

456
Location
Gender

Male
Political Leaning

Independent
Libya is notorious for its unrest. As you all know, Libya was ruled by Gadaffi until 2011 when he was toppled with American assistance and the country fell into chaos. However, there are a few parts of the story which are not so well known.
After the fall of Gadaffi, the country experienced brief turbulence until a transitional government was established. This government was controlled by the General National Congress. In early 2014, The Council of Deputies was formed to take the place of the GNC; the latter did not want to give up power, resulting in 2 governments of Libya. Several armed groups backed the GNC and formed the LIbyan Shield which took libya's capital, Tripoli, forcing the CoD to relocate to Toburuk. Meanwhile, there was a 3rd faction of jihadists. Speaking of which, Isis took advantage of the unrest and took Derna along with a string of other towns. Benghazi was contested between al queda and the CoD. In mid 2015, Isis lost derna to a rival group of jihadists but they moved on to secure Sirte.
In december 2015, the 2 rival governments agreed to a ceasefire in effort for the UN to help form a unity government. Now, the 2 governemnts are focusing efforts on driving out Isis.
Situation in libya as of June 1 2016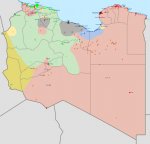 Green represents the Libyan Shield/GNC, rep represents the toboruk government, grey represents Isis, white represents, other jihadists, yellow represents local militias, tan represents the turangs, and blue represents the Petroleum Facilities Guard
The Turangs are a nomadic people commonly found in the saharan desert who often prefer autonomy over the arabian governments. The Petroleum Facilities Guard was formed to protect Libya's oil assets but have been accused of selling oil to Isis.