Ruscism = Russian fascism
DP Veteran
Joined

Apr 18, 2013
Messages

85,395
Reaction score

70,677
Location
Gender

Male
Political Leaning

Independent
Trump Escalates His Assault on Civil-Military Relations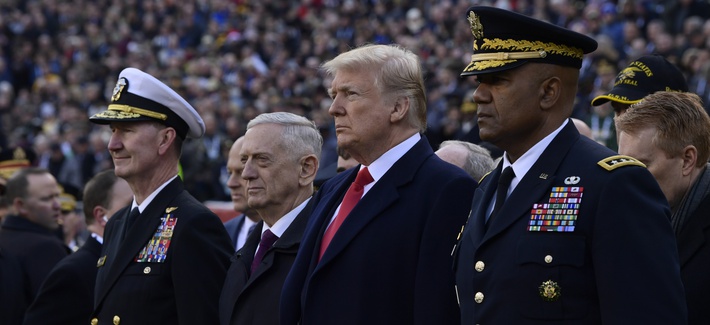 The president's public disparagement of retired generals compounds the damage he has done.
1/2/19
We've gotten used to so much in Donald Trump's two years in office, from the cruelty of his immigration policies to his childlike understanding of international trade, and from his apparent fear of Vladimir Putin to his whipsawing of the financial markets. Too many Americans have simply become accustomed to the president's antics as a normal part of the background noise of their lives. Sometimes Trump's disjointed thoughts are merely an embarrassment; at other times, he makes dangerous policy changes or wipes out great amounts of wealth in a tweet. Now, however, the president has opened a Pandora's box by escalating his attacks on senior U.S. military leaders. No American president has ever dared risk the American civil-military relationship for less cause or with such childish malice. American citizens don't think much about civil-military relations. That's good: It's a sign of a healthy polity. We don't worry about tanks rolling up North Capitol Street or paratroopers lolling about in Lafayette Square. We're not that kind of country. But the president has taken a dangerous path, excoriating retired military leaders who criticize him and lavishing praise and make-believe pay raises on the active-duty military voters who he believes support him. A precious heritage built on the dual pillars of military obedience to civilians and civilian respect for military professionals is now at severe risk.

From a political standpoint, however, what the president is doing is corrosively dangerous. He is impugning the character and competence of senior U.S. military leaders purely for political reasons. He is making clear that the "smart" generals and admirals are those who support him, and that "dumb" or "failed" officers are those who disagree with him. And he has no compunction about leveling blistering insults—in public—against some of America's most highly respected military leaders. Yes, presidents have blown their stacks when hearing things they don't like from their military advisers. And, yes, retired military officers have not helped matters. Many of them have spoken out against Trump, in ways that would have been unthinkable even a decade ago. But it is the president, not the generals and admirals, who have made this unthinkable situation part of the new normal in the Age of Trump. No modern president has been so reckless in his criticism of both active and retired military professionals. When Trump said he knew more than the generals—a laughable claim from almost any civilian when it comes to military affairs—he apparently meant it. And that means he has no respect for military advice, from any direction. This, more than any personal clash, was the clear message in Mattis's resignation. If Trump continues on this path—and he will—we could face the most politicized and divided military since Vietnam, or even since the Civil War. Generals and admirals could be faced with betraying their professional code either by giving the advice they know will keep them in the good graces of the president or by ignoring the president's orders and protecting their troops in the field as they think best. The rank and file, meanwhile, will become accustomed to showing up at political rallies where their commander in chief will pander to them and air his grievances against other elected officials, all while they wave banners in uniform and cheer for a growing cult of personality.
I have every confidence the US military can whether this transitory storm. Yet it is but one of the plethora of reasons that Donald Trump must be ushered through the exit door in 2020.