Joined

Aug 11, 2015
Messages

283
Reaction score

79
Gender

Undisclosed
Political Leaning

Undisclosed
Jamala's somber song harks back to Soviet persecution of Crimean Tatars at the end of World War II

The camp, pop-filled bonanza that is the Eurovision Song Contest took a turn toward the serious on Thursday night, when Ukrainian jazz singer Jamala's performed her evocative "1944" during the contest semi-finals. Performing live to millions of viewers, the 32-year-old Jamala sang: "when strangers are coming, they come to your house, they kill you all and say, 'we're not guilty, not guilty.'"

The tragedy, which the Ukrainian government recently recognized as genocide, dates back to the early 20th century.
Eurovision Contest Ukraine Entry: What '1944' Is About
Russian involvement in any land that does not belong Russia is doomed to such crimes; the history of Russians is full of such events on different lands and people who are not Russian.
Here is a resolution from The EP on illegal actions of Russians against Crimean Tatars in Crimea:
''JOINT MOTION FOR A RESOLUTION on the Crimean Tatars (2016/2692(RSP))''

A. whereas the Russian Federation has illegally annexed Crimea and Sevastopol and is therefore an occupying state which has violated international law, including the UN Charter, the Helsinki Final Act, the 1994 Budapest Memorandum and the 1997 Treaty of Friendship, Cooperation and Partnership between the Russian Federation and Ukraine;

C. whereas Crimean Tatar leaders, including Mustafa Dzhemilev and Rafat Chubarov, have previously been banned from entering Crimea, and are now allowed to do so but under threat of arrest – thus sharing the same fate as numerous other members of the Mejlis and Crimean Tatar activists and displaced people; whereas more than 20 000 Crimean Tatars have had to leave occupied Crimea and move to mainland Ukraine, according to data provided by the Government of Ukraine;

G. whereas on 26 April 2016 the so-called Supreme Court of Crimea ruled in favour of a request by the so-called Prosecutor-General of Crimea, Natalia Poklonskaya, accusing the Mejlis, which had been the representative body of the Crimean Tatars since its establishment in 1991 and had enjoyed full legal status since May 1999, of extremism, terrorism, human rights violations, illegal actions and acts of sabotage against the authorities;
Joint motion for a resolution on the Crimean Tatars - RC-B8-0582/2016
Cemile (Jamala) did not only win a contest, she also won to have attention of people in the world against Russian crimes on a native population that Russia exiled, killed, ''genocided''(Ukrainian resolution) in the past, and now repeats it again on the civilization of Tatars in Crimea.
A photo from Russian crimes: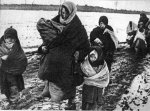 https://history105.libraries.wsu.edu/spring2015/2015/01/17/the-ukrainian-crisis/
Last edited: