Joined

Mar 2, 2016
Messages

3,906
Reaction score

862
Gender

Undisclosed
Political Leaning

Undisclosed
Saw this in Detroit and thaught it was interesting enough to take a picture of and share with yous...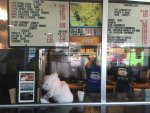 Pay particulat attention the the photo of Obama stuffing his face at this very place..
Look close and you will then notice all the bullet holes around right where they decided was the best place to keep their prized Obama picture.. The spelling on their menus is also interesting..
Boys n girls that there is what your president represents.. Looks right at home doesn't he?
On the corner of Hogarth ST and Grand River AVE if you want a closer look..
I don't know about you but it felt pretty ****ty to me seeing the leader of the country I love in such an absolute **** hole..
I just did 6 blocks of sidewalks a couple blocks down from there, half of the houses are burnt down and falling in.. This is NOT an example I want my country to follow..
I want a picture of Trump on the coney lot holding the Obama picture in his hand as an excavator tears that hell hole to the ground..