Nulla Misericordia
DP Veteran
Joined

Apr 18, 2013
Messages

90,343
Reaction score

77,202
Location
Gender

Male
Political Leaning

Independent
New satellite images reveal activity at unidentified North Korean missile base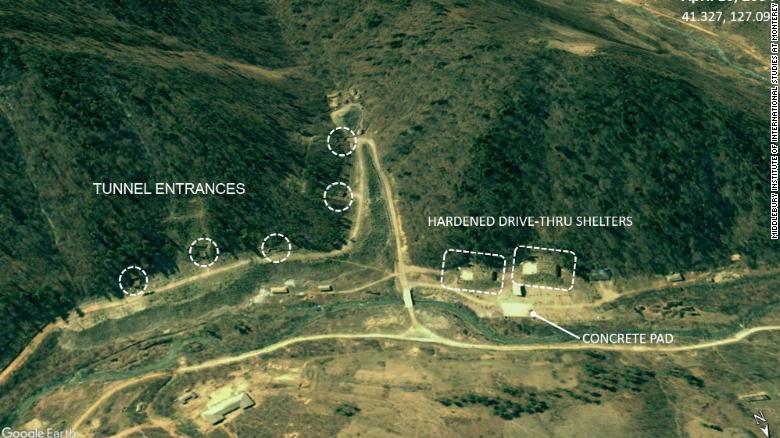 Unexplained construction activity at an unidentified missile facility about 7 miles from the Yeongjeo-dong missile base.
12/5/18
New satellite images obtained exclusively by CNN reveal North Korea has significantly expanded a key long-range missile base located in the mountainous interior of the country, offering yet another reminder that diplomatic talks with the US have done little to prevent Kim Jong Un from pursuing his promise to mass produce and deploy the existing types of nuclear warheads in his arsenal. The satellite imagery offers evidence that the Yeongjeo-dong missile base and a nearby, previously unreported site remain active and have been continuously upgraded, underscoring the reality of just how far apart Washington and Pyongyang are on the issue of denuclearization despite five months of sporadic talks. While the base at Yeongjeo-dong has long been known to US intelligence agencies and analysts, researchers at the Middlebury Institute of International Studies at Monterey told CNN that the images reveal construction on a new facility just seven miles away from the older site that had not been previously publicly identified. "Satellite images show that the base remains active. Moreover, in the past year North Korea has significantly expanded a nearby facility that appears to be another missile base," the report states, noting that it is unclear whether the two bases are separate, or whether one is subordinate to other. The images indicate that North Korea was building an extremely large underground facility in 2017 and that this facility was still under construction as of August 2018.

"Construction on the previously unidentified site has continued even after the Singapore Summit" between Kim and President Donald Trump in June, Jeffrey Lewis of the Middlebury Institute of International Studies at Monterey, one of the analysts that identified the site, told CNN. "Whatever Kim says about his desire for denuclearization, North Korea continues to produce and deploy nuclear armed missiles." The site's unique location makes it a strong candidate to receive North Korea's newest long-range missiles, including those that can carry nuclear weapons and can strike the United States, according to Lewis and his colleague David Schmerler. The State Department declined to comment, saying it doesn't discuss intelligence matters. Last month, Vice President Mike Pence told NBC News that the US will not require North Korea to provide a full list of its nuclear and missile sites before Trump meets again with Kim.
Does everyone feel comfy and secure knowing that Trump, Pompeo, and Bolton are overseeing the denuclearization of the Hermit Kingdom? /s
Related:
John Bolton says North Korea failure to meet commitments requires second Trump-Kim summit