Supporting Member
DP Veteran
Joined

Sep 16, 2012
Messages

46,325
Reaction score

52,220
Location
Gender

Male
Political Leaning

Conservative
https://www.thegatewaypundit.com/2019/02/smoking-gun-northam-college-photo-shows-man-in-same-plaid-pants-as-the-blackface-kkk-yearbook-photo/
I understand that Gateway Pundit often runs short on facts and long on sensationalism but it is kind of interesting that Northam is in another picture with a guy wearing the same pants and having the same poofy hair as "blackface guy". It's also interesting that Northam is taller than the possible "blackface guy" while the KKK guy is shorter than "blackface guy".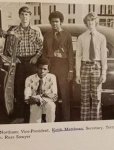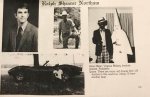 If it isn't Northam in blackface or the hood then should he still be pushed out of office because he admitted to the moonwalk in blackface thing?
-edit-
I just want to throw one other possibility out there. What if this picture was of a white guy in blackface and a black guy in KKK garb? What if this picture came about as an ironic statement on racism by a white guy and a black guy? I can't tell from the yearbook picture but it's certainly possible that the guy in the hood is black.
Last edited: