I identify as "non-Bidenary".
DP Veteran
Joined

Jul 22, 2013
Messages

2,652
Reaction score

1,298
Gender

Male
Political Leaning

Independent
My parents had divorced when i was about 15. So right before getting my license, my parents both made it clear that I'd NOT be given a car. Back in 1977 or 1978, at 9-10 years old, I had accompanied my dad on a 30min drive to a car dealership, in his old project car, an MG Midget. It was raining, and as usual, it's convertible rag top was leaking. We get to the AMC dealership, where my dad trades the MG in on a brand new, flashy Pacer, in sporty metallic copper! It had a 6cyl with a ridiculously long column shifter for its 3 speed manual trans.
Fast forward to 1984, and my father had just bought a new Mitsubishi Starion turbo, but unfortunately without trading in the Pacer! Lol. He decided to sell it to me on a payment plan, and just a day or 2 later, I secured a full time summer job at a machine shop to pay for it(plus insurance, gas etc). We produced high stall torque converters for drag racers and street cars.
But it wasn't more than a few days later, that the column shifter lost all interface with the transmission, and it was put in the shop. It took at least 2 weeks to get it back, but it failed again within a day or 2. Back to the shop for 1-2 more weeks, then I get it back. One day a friend, his older cousin and I go to a local creek, to a swimming hole with a high rope swing. We finish swimming, start to drive away, and it fails again, and it looks like we are stuck out in the middle of nowhere! Fortunately, the older guy with us has learned the basic mechanical knowledge that we, at 16, had not learned yet. He discovers a broken weld on the shifter linkage on the firewall. This meant the linkage would fail, and the 20" long column shifter would flap around, but not direct the transmission into any gears! But he was able to pop it back into the slot so that it was driveable until it popped out again, and He showed me how to quickly but temporarily get the car driving again.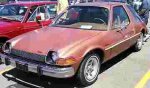 I had spent most of my 1st summer with a driver's license, without a friggin car! I knew it meant the car was going back to the shop run by incompetent morons. So I saved up $400 over the next few weeks, and bought car #2, a 1974 Mustang II hatchback, with a 4cyl and auto. I returned the Pacer to my dad, ending the payment plan. Now I had a car that actually worked! It had aluminum slot mag wheels, fat tires and the back end was jacked up a bit, so it looked cool, although, it's 2 front fenders had rusted at the bottom brackets that connected them to the subframe. This meant that neither fender was connected at the bottom, so whenever I went over a bump, the fenders would flap up and down like wings! It looked like this car, but white instead of gray, and no hood scoop.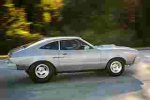 But then I turned it around. In early spring of 1985, I traded in the 1974 Mustang II on a used 1978 Mustang II Cobra II, with a 302 V8 and a 4-speed manual. It was all white with big blue stripes going over the hood and roof, and down the sides. It had low mileage and was in fantastic condition. I had a lot of fun with It. Even though cars from 1974-1994 had vastly reduced horsepower as compared with 1960-1973 cars, it was still a light car with a v8 and 4 speed! That's always a great combo...It looked exactly like this: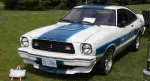 Last edited: