Joined

Feb 4, 2013
Messages

28,659
Reaction score

18,803
Location
Gender

Male
Political Leaning

Very Conservative
Largest space battle in history claims 2,900 ships, untold virtual lives
Largest space battle in history claims 2,900 ships, untold virtual lives

In less than an hour, a battle of interstellar proportions will break out in the MMORPG Eve Online, a spacefaring simulation with its own politics, economies, and wars — all controlled exclusively by players. Between three and four thousand pilots are set to do battle in one of the largest fights ever on Eve, which you can watch live below or on Twitch.tv.

The battle is expected to rival the legendary Battle of Asakai as one of the most epic battles in Eve history — which totalled equivalent to $20,000 in losses for the losing team. Today's battle doesn't yet have its own name, but is taking place in a system known as 6VDT between two of the largest player alliances in the game, TEST Alliance and the CFC. In order to keep lag to a minimum, since the battle takes place on just one server, Eve's developers will likely slow down time more than 90 percent so its server can process all player actions. This means today's battle could take several hours to reach its explosive conclusion.

--------------------------------------------------------------------------------

Live updates by T.C. Sottek
Wow. :shock: According to the article, the battle involved over
five thousand
different players duking it out on both sides at the same time.
The whole thing must have lagged like nobody's business, but the sheer scale of it still almost makes me tempted to buy a subscription. :lol:
Here are some photos of the "carnage."
Extreme close up so only the tiny ships are visible.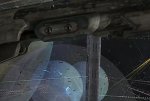 Medium range.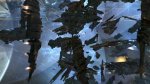 Long range.

Whole battle.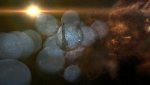 Last edited: