Joined

Jan 24, 2013
Messages

15,633
Reaction score

6,159
Location
Gender

Male
Political Leaning

Very Conservative
Chaos in DC
as man sets himself on FIRE on the Mall a day after woman was shot dead after ramming White House gates
•Man was sitting on the National Mall when witnesses saw him douse himself with gasoline and light himself on fire
•First responders were on the scene in minutes and said that he was conscious and breathing before being airlifted to a local hospital
•Comes one day after police shot and killed a woman after she rammed her car into a barricade near the White House
(just weeks after shooting rampage at the Washington Navy Yard where the suspected was quoted being unhappy with what was happening to America)
A man reportedly set himself on fire on the National Mall this afternoon and was airlifted to a hospital.
Police were called to respond to the emergency at 4.24pm and the fire was put out.
The man has not been named, but DC Police reportedly said that he was conscious and breathing.
Witnesses said that they saw him sitting on the Mall, dousing himself with gasoline which he had in a gas canister.
Some reports say that two male bystanders initially tried to put the fire out using their own shirts while others put the number of Good Samaritans at closer to five or six people...
The man's exact motivations have not been reported but the chosen location hints that it was a demonstration of sorts..."<
Chaos in DC: Man sets himself on FIRE at Washington's National Mall | Mail Online
Remembering history when a nations citizens live under a corrupt regime, they go to the extremes.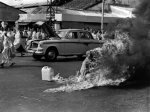 Saigon, South Vietnam 1963, Buddhist Monk in protest of the corrupt Diem regime sets himself on fire.