Joined

Dec 1, 2020
Messages

8,455
Reaction score

6,600
Gender

Male
Political Leaning

Independent
Just another bold face lie. The guy simply can't help himself from lying. On the lighter side of this, ole John Bolton will catch hell setting the record straight about DJT's lying about not knowing what burner phones are.
White House records show a gap of over 7 hours in Trump's communication on January 6, and the former president said he's never heard of the phrase "burner phones."
www.cbsnews.com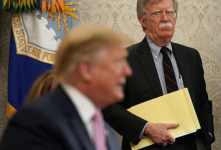 John Bolton, the former national security adviser in the Trump administration, told CBS News on Tuesday that he had heard former President Donald Trump use the phrase "burner phones" in several discussions and the former president knew what it meant.
"I have no idea what a burner phone is, to the best of my knowledge I have never even heard the term," Trump said.
But Bolton said he and Trump have spoken about how people have used "burner phones" to avoid having their calls scrutinized.