Privileged
Supporting Member
DP Veteran
Monthly Donator
Joined

Feb 12, 2013
Messages

160,900
Reaction score

57,813
Gender

Undisclosed
Political Leaning

Centrist
The most thorough, profound and moving defense of Hillary Clinton I have ever seen.
First
To conservatives she is a radical left-wing insurgent who has on multiple occasions been compared to Mikhail Suslov, the Soviet Kremlin's long-time Chief of Ideology. To many progressives (you know who you are), she is a Republican fox in Democratic sheep's clothing, a shill for Wall Street who doesn't give a damn about the working class. The fact that these views could not possibly apply to the same person does not seem to give either side pause. Hillary haters on the right and the left seem perfectly happy to maintain their mutually incompatible delusions...
Exactly. They can't both be right. So, someone obviously is wrong, clueless in their description. My guess, it's both who are not only clueless, but absolutely wrong in their description. Methinks both sides are reading too many press clippings.
Next,
a surprisingly large percentage of the electorate, the claim that Hillary is innately dishonest is simply accepted as a given. It is an accusation and conviction so ingrained in the conversation about her that any attempt to even question it is often met with shock. And yet here's the thing: it's not actually true. Politifact, the Pulitzer prize-winning fact-checking project, determined for example that Hillary was actually the most truthful candidate (of either Party) in the 2016 election season.
Yep, just saw that truth-chart this morning.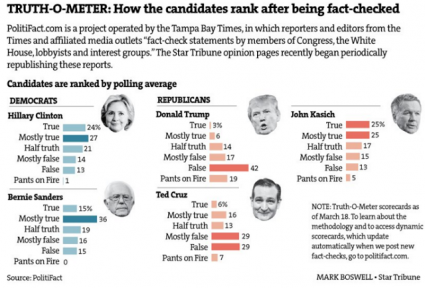 So, why the Hillary hate?
But while conservative propaganda and lies are a constant in "Hillaryland", if we look at Hillary's career, and the negative attacks so often aimed at her, it seems clear that more than just political machinations are at play. My current conviction is that the main fuel that powers the anti-Hillary crowd is sexism.
Yep. This is evidenced here in DP when we see the first line of attack from several "conservatives" against dudes who support Hillary is that they must be either gay or ***** whipped. It's an old game---challenge the manhood of anyone who dares support the female, especially a non-moose hunting female.
...what do we see in this data? What I see is that the public view of Hillary Clinton does not seem to be correlated to "scandals" or issues of character or whether she murdered Vince Foster. No, the one thing that seems to most negatively and consistently affect public perception of Hillary is any attempt by her to seek power.
Sure. Women like Hillary scare people, especially weak men.