Joined

Jul 29, 2009
Messages

34,478
Reaction score

17,282
Location
Gender

Male
Political Leaning

Conservative
There have been 6 eye witnesses to the altercation that night who have testified so far, and one phone witness. Let take a look at the consistency of their statements, the credibility of their testimony, how it may have benefited or hurt one side or the other, and the strength of what they brought to the table.
The witnesses were: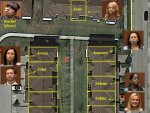 The first thing I want to dig into, is credibilty... Did any of them have a reason to lie, was there any conflict of interest, or did any of them choose sides.


How many of them were either friends or enemies, with either Martin or Zimmerman prior to that night?
1 - Rachel - Martin's friend.


How many of them were aquainted with either Martin or Zimmerman prior to that night (other than Rachel), and did they know of their involvement in the incident prior to giving their statement to police?

1 - Jenna - Saw George at block meetings - Gave her statement to police prior to knowing of his involvement and her story hasn't changed since then.

How many witnesses have, or appear possibly to have, chosen a side in this case prior to their testimony this week, and has their testimony changed in that favor from their original depositions?

4 - Rachel - Obviously - Yes, it changed depending on the day of the week.
--- Jenna - Possibly follows Z's brother on twitter, but uncertain - Her testimony hasn't changed.
--- Selene - A "likes" visitor to "Justice for Travon" facebook page. - Her testimony did change negatively for Zimmerman
--- Selma - Her roommate supports Martin and indicated that they both were to be interviewed by BET for their pro-Trayvon special - I don't recall if her testimony changed from her deposition.
Based on those 3 multi-part questions, here's how I rank (from most to least) the credibility level of the witnesses based on their outside influences and/or possible conflicts of interest:
__ Spotless __


1. John
2. Jane
3. Jeannee
___
Good
____
4. Jenna
5. Selma
__
Toss up
___
6. Selene
__
Very Low
__
7. Rachel
*****************************************************************
Here's some other rankings I threw together just for fun:
Most helpful to the prosecution:
Rachel (runner up Jeannee)
Most helpful to the defense:
John (runner up Jenna)
Most pleasant to look at:
Selma
Most timid:
Selene
Most confident:
Jenna
Most unatractive:
Rachel
Most annoying:
Rachel
Most contradictions:
Rachel
Most uneducated:
Rachel
Most Tears shed:
Rachel
Most foul/colorful language:
Rachel
Most fortunate they weren't cited for contempt of court:
Rachel
OK, have at it all you armchair analysts