Joined

Jun 14, 2013
Messages

11
Reaction score

2
Gender

Male
Political Leaning

Independent
World Refugee Day; Not for Palestinians

Ibrahim Alsaafin

In UNHCR history, refugees of war and natural catastrophes have been taken care of. Whenever a conflict starts, UNHCR was there to provide food and shelter for the becoming homeless in one direction, and applying some pressure to ensure their return to their original land and homes, if they still there.
Two years before UNHCR was founded, a forced displacement against the majority of Palestinians who were exiled from their lands to refugee camps took place, where UN took the initiative and founded UNRWA to take care of them. Two years later, no hope was rising in the horizon for those refugees to return home. UNHCR was founded, but Palestinians were kept under the umbrella of UNRWA, maybe because one of UNHCR goals is to work on ensuring the return of refugees.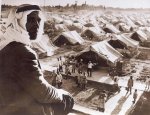 ​
As years were passing, the tents became houses. And as the population of Palestinian refugees kept growing, the houses became buildings on the same spot and boundaries of the original tent encampments back in 1948. Now, the refugee camps are neighborhoods, poor ones though, distributed between Lebanon, Syria, Jordan, West Bank and Gaza Strip. People there living day to day while their case is completely ignored on the negotiations table. What negotiations anyway!
​
More than 66% of the Palestinian people are refugees. Having the UNRWA to take care of them makes it a government-like institution who provides education, health care, quarterly food supplies and vacancies to refugee workers, but not the pursuit their right of return.
It's clearly obvious why the Palestinians were meant to remain under UNRWA not UNHCR; because they meant to remain refugees for a very long time. Meanwhile the allocations of UNRWA have been sized down while the Palestinian refugees are restricted from working freely in their refuge destinations, more repulsive factors are added on them to start searching for new places to immigrate to, far far away from the surroundings of their lost land.