Joined

Feb 26, 2012
Messages

56,981
Reaction score

27,029
Location
Gender

Male
Political Leaning

Private
More than two years into Syria's civil war, the once highly-centralized authoritarian state has effectively split into three distinct parts, each boasting its own flags, security agencies and judicial system.
In each area, religious, ideological and turf power struggles are under way and battle lines tend to ebb and flow, making it impossible to predict exactly what Syria could look like once the combatants lay down their arms. But the longer the bloody conflict drags on, analysts says, the more difficult it will be to piece together a coherent Syrian state from the wreckage.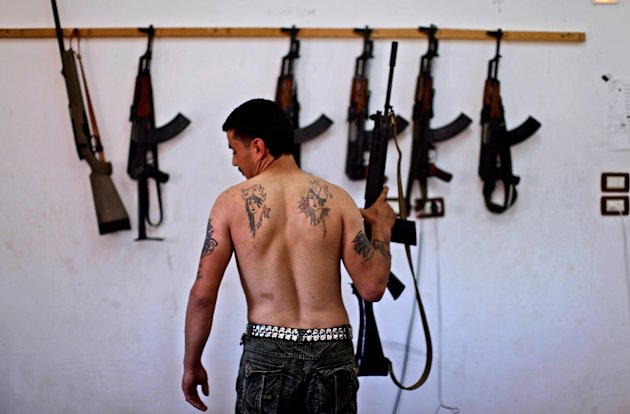 "There is no doubt that as a distinct single entity, Syria has ceased to exist," said Charles Lister, an analyst at IHS Jane's Terrorism and Insurgency Center. "Considering the sheer scale of its territorial losses in some areas of the country, Syria no longer functions as a single all-encompassing unitarily-governed state."
The geographic dividing lines that have emerged over the past two years and effectively cleft the nation in three remain fluid, but the general outlines can be traced on a map.
Moreover, the opposition movement itself is far from monolithic, and there have been increasing outbursts of infighting between al-Qaida affiliated extremists and moderate rebel groups, as well as between Kurds and rebels of a radical Islamic bent. That violence holds the potential to escalate into a full-blown war among armed opposition factions.
In the north, fighter brigades have set up judicial councils known as Shariah courts that dispense their own version of justice based on Islamic law, including in some cases, executions of captured regime soldiers and supporters.
"While there are shifts in momentum on the battlefield, Bashar Assad, in our view, will never rule all of Syria again," Jay Carney, the White House spokesman, told reporters in Washington last month.
The comments appeared to leave open the possibility that while Assad has lost control over large parts of the country, he may well be able to hang on and even expand his core territory in the future.
Syria's partition into mini-states is an ominous scenario for a country that sits along the Middle East's most turbulent fault lines. Any attempt to create an official breakaway state could trigger a wave of sectarian killings and have dangerous repercussions in a region where many religious, ethnic and tribal communities have separatist aspirations.....snip~
Syria's war splits nation into 3 distinct regions
Infighting amongst the Rebels themselves is starting to take importance
.....the good news is the MB is weakened and wont be as significant here. Still Syria may just divide up into 3 separate states.
As far as triggering a wave a sectarian killings.....to late. It has already spread past Syria and is now affecting most of the ME. Both sides of Sunni and Shia are already assassinating each others clerics. Yet we are supplying weapons to the rebels. Wherein the AQ types can just take what they want from the FSA. At anytime they want. What a mistake this was.