Respected On All Sides
DP Veteran
Joined

Jun 20, 2008
Messages

100,078
Reaction score

86,379
Gender

Male
Political Leaning

Undisclosed
Now, I'm not a military man, nor am I an expert in computers and programming, so I have a question: when AI machines go to war with human, what is the most likely outcome?
1)We go to war with them and eventually win, a la Terminator, or
2)They beat us handily, plug us into a simulated reality and harvest us for food.
3)Somebody precludes the hypothetical scenario altogether by saying, "Hey, maybe Asimov was on to something with those three laws of robotics."
An artificial intelligence algorithm squared off this week against an F-16 pilot — and won.

After three days of playing chicken with enemy fighter jets piloted by computers, an algorithm designed to guide an F-16 in combat finally got to square off against a human Thursday in the finale of a three-day competition of combat simulations run by the Pentagon's advanced research group. The final score: computer five, human zero.
https://publicintegrity.org/national-security/future-of-warfare/machine-beats-man-in-air-combat-simulations/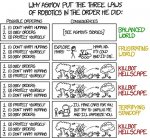 Last edited: