Joined

Oct 17, 2006
Messages

57,777
Reaction score

25,026
Gender

Male
Political Leaning

Moderate
Rand Paul Supporters Rough Up MoveOn Activist - CBS News
Supporters of a Republican U.S. Senate candidate wrestled a woman to the ground and one stepped on her head after she tried to confront the candidate in Kentucky.

The incident happened Monday night in Lexington right before a debate between Rand Paul and Democratic opponent Jack Conway. (See video below).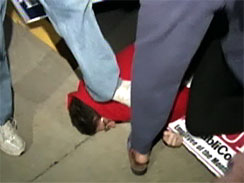 More on the story:
Rand Paul supporters attack MoveOn activist before debate | The Upshot Yahoo! News
The altercation happened just minutes before Monday night's debate in Lexington. Activist Lauren Valle, wearing a blond wig in her sendup as a representative of the fictitious "RepubliCorp," approached Paul to give him an "employee of the month" award, the Louisville Courier-Journal reported. Paul supporters crowded in on her; one man pulled off her wig, and another man pushed her to the ground and stepped hard on her head and shoulder area.

Valle apparently sustained no serious injury. She has filed assault charges with the Lexington police, who say they are reviewing video and photographic evidence from the debate to establish the identities of Valle's assailants.

News cameras on the scene captured the confrontation, which reportedly led Monday night's newscasts in Kentucky, ahead of the actual Paul-Conway debate footage.
What an interesting case of a radical mob mentality. I think it's interesting that even though somebody told the guy to stop, there was still a crowd chanting in the background. It's also interesting that somebody kept saying 'get the police'. For what?
Last edited: