Joined

Feb 4, 2013
Messages

28,659
Reaction score

18,803
Location
Gender

Male
Political Leaning

Very Conservative
Putin's Eerily Persuasive Message to Barack Obama
I apologize in advance for the source. It's views are not necessarily my own. The main point here is Putin's message in the video the link contains. IJR simply happens to be the source where I came across it first.
At first glance, I'll admit that Putin's arguments seem rather convincing. After all, he is a suave and pragmatic man, and he does happen to be possessed of a decidedly shrewd political mind. All of those qualities are on rather clear display above.
However, given those qualities I have just enumerated, I suppose it should come as no surprise then that he
also
just so happens to be a skilled liar and brilliant spin artist. I frankly don't think I've ever seen a greater trove of blatant hypocrisy and historical revisionism than what he suggests above.
For instance, I'm still having a hard time fathoming how he could
possibly
have the audacity to lecture the United States on any matter pertaining to civilian casualties.
He certainly didn't care about such things in his invasion of Chechnya during the late 1990s. The conlfict is actually estimated to have killed over a
quarter million civilians
(most of them ethnic Russians living in Chechnya) over the course of its duration.
I'd also venture so far as to say that the UN probably didn't declare the region's capital, Gronzy, to be the
"most destroyed city on Earth"
after being stormed by Russian forces back in 2003 for nothing.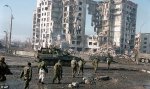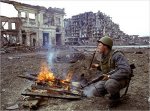 We could've launched "Shock and Awe" against Saddam Hussein's Iraq one hundred times over and still not reached
anywhere near
that level of wanton destructiveness, and any damage we could ever conceivably do in Syria doesn't even begin to compare with it either. No offense to Mr. Putin, but methinks he would be wise to avoid throwing bricks in glass houses.
Furthermore, while his talk about going through the UN Security Council is all well and good, it also goes completely against his own track record.
He's absolutely
did not
"wait" for any kind of UN approval before making the decision to invade Chechnya in 1999, or Georgia in 2008. As a matter of fact, the international community was
quite
distraught
over Russia's behavior during both of those conflicts.
Likewise, his claims that US intervention in the Middle East hasn't helped anything are off the mark as well. Our air campaign in Libya was
quite
successful, and managed to play a decisive role in toppling Gaddafi's regime without wracking up the outlandish costs demanded by a full scale invasion and occupation.
Granted, the Benghazi attack was unfortunate. However, that appears to have been an isolated incident, and it wasn't even one which the majority of Libya's people supported.
Libyans storm Ansar Al-Shariah compound in backlash after attack on US Consulate
Aside from this incident, Libya has actually been comparatively stable since the civil war's end.
The major meccas of civil unrest, violence, and disorder in the Middle East at the present moment are, as a matter of fact, Egypt and Syria; two nations in which the United States has so far made a point of
avoiding
direct military or political intervention entirely.
In short, Putin's whole spiel here is basically hypocritical and counter-factual nonsense from beginning to end. It is "do as I say, not as I do" style propaganda specifically meant to appeal to the fear and uncertainty of war-weary Western populations.
He doesn't give a damn about "harming innocents." He just wants to make sure that he doesn't lose one of his nation's most profitable
military buyers
.
How many people do you think will be suckered in by his arguments anyway regardless? :roll:
Last edited: