Classical Liberal Sage
DP Veteran
Joined

Jun 22, 2013
Messages

19,708
Reaction score

26,826
Location
Gender

Male
Political Leaning

Other
Well here's more facts to show how MSM is pushing propaganda:
STUDY: 150 TIMES More Negative News on Trump than Biden.

From June 1 through July 31, the ABC, CBS and NBC evening newscasts focused 512 minutes of airtime on the President, or nine times more than the 58 minutes allotted to Biden. (This excludes coverage of the Trump administration in general when not associated with the President himself.) This is an even wider gap than the spring, when Trump received seven times more coverage than Biden (523 minutes vs. 75 minutes).

The extra airtime devoted to Trump consisted almost entirely of anchors and reporters criticizing the President. During these two months, our analysts documented 668 evaluative statements about the President, 95 percent of which (634) were negative, vs. a mere five percent (34) that were positive. Using the same methodology (fully described at the end of this article), we found very few evaluative statements about Joe Biden — just a dozen, two-thirds of which (67%) were positive.
STUDY: 150 TIMES More Negative News on Trump than Biden | Newsbusters
Here it is in image form: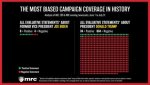 Gee, I wonder where so many outspokenly hostile citizens get their ideas about the President. :roll:
Now I am certain that the usual suspects are going to argue that this is Media merely reporting the "truth;" because the President is the root of all evil. Perhaps the Antichrist himself. :roll:
But IMO any rational person would note that this is evidence of major partisan bias in the MSM.
I think that more and more people are beginning to see through this propaganda barrage. Not only in regards to Trump, but the whole nightmare of grievance issues, rioting, and other allegations of all sorts of American evils.
I hope so. I also hope this presages another "shocking result" come November 2020.
Time will tell.
Last edited: