Exposing GOP since 2015
DP Veteran
Joined

Jan 21, 2013
Messages

25,357
Reaction score

11,556
Location
Gender

Male
Political Leaning

Moderate
Not sure this is the right place to put, but there's been a number of Grinch-Trump comparisons over the years. Here's mine. Enjoy and Merry Christmas DP! :2wave: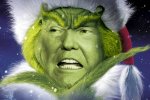 You're a mean one, Mr. Trump
You really are a crook
You're as mobbed up as a bookie, with your hair full of gook Mr. Trump
Your vocabulary is a best described as a word salad full of gobbledygook.
You're a mobster, Mr. Trump
Your ties to Russia are strong
You cozy up to dictators, why that's just plain old wrong, Mr. Trump
I want Robert Mueller to indict you with a list that's seventy-five crimes long
You're a loud one, Mr. Trump
Your tweets are full of lies
You have the awareness of a stable genius without an alibi, Mr. Trump.
Given the choice between loyalty to you and jail, Mueller flips your allies.
You're a loser, Mr. Trump
Even your marriage is a bull **** deal
And your buildings are built on foundations of cheap steal, Mr. Trump.
Even your phone knows you're an ungrateful cheating horndog because it autocorrects heal to heel.
You're a nutcase Mr. Trump
You constantly mock your own base
You're a lying, thieving, creep with a corrupt database, Mr. Trump.
Your base is made up some of the most deplorable, racist, trolls imaginable,
An assortment of conmen, and bull**** artists with no principles who only wanna win the race.
You're a hypocrite, Mr. Trump
Everyone in Washington knows it
But as long as Fox News is there to fill your base with more fear and Bull****
your Presidency will remain legit, Mr. Trump
The three words that best describe you are as follows, and I quote,
"Unfit! Culprit! Nitwit!"
Last edited: