Maquis Admiral
DP Veteran
Joined

Feb 9, 2011
Messages

16,735
Reaction score

5,544
Gender

Male
Political Leaning

Libertarian
I ran across this recently.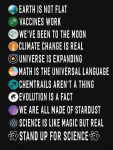 So first I am going to ask that if you want to debate any of the other points, start your own thread for that. I want to center on the "math is the universal language."
I'm going to disagree that math is a universal language. When sticking to single operands. This is true. 2+2 will always equal 4, regardless of the number base, label to the digit and such. Going to binary 10+10=100 and 2+2=10 in trinary. But the objects counted are still always the same amount.
But once you get into mixed operands, the order that you perform them is a constructed form, and is in no way natural or universal.
For example: under the current way we do math (PEDMAS or PEMDAS as you prefer) 2*2+4= 8. However, if we reverse the order we perform the operations, 2*2+4=12.
We humans made up that order of operations. So what if another race chose to use a different order? This math is NOT a universal language.
What say you?