'Utopia' is just an idea, a word in the 'eye of the beholder'… But it's a feel-good word I don't consider to be defined as the 'perfect', problem-free world. I don't believe that is possible…
I do believe that we and everything are all made of the same energy. I do believe there is power and answers to great harmony in studying and understanding this. But there is no place to get to, no destination. It is the journey on that path that will be our 'utopia'. Just being on that path will alleviate so much of what ails us. There just won't be stupid **** to fear, starve, or fight over. You won't hate or fear me because I am you, and you me, and it's stupid to fear or hurt yourself, dummy…
It certainly sounds like a utopia of some sort, but I'm sure there will be a new set of problems to cope with. However, we'll be so much smarter, and sufficiently interested and motivated as a species. The shallow **** will be gone. Any problems we have will be real problems, not 'fabricated' ones that keep Head Munchkins in control…
We'll be in a position to move on these things quickly without enslaving systems and invisible boundaries in the way. Human needs will be our first priority for real. That's utopia enough for me… That's the most beautiful thing I can think of… And it is entirely possible – even simple. Are you ready?
Just apply those Universal truths to our everyday lives – especially when it's most difficult - and it will all start to come around as naturally as a sunrise. Head Munchkins will be discovered for what they are in the process…
Forcing those Universal truths back into our lives exposes the Head Munchkins.
UT = FU HM²
Peace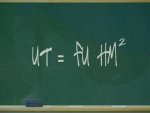 ​