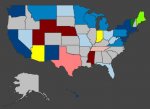 ARIZONA - (Jeff Flake, R)

TOSSUP

- Sen. Jeff Flake is retiring, opening an opportunity for the GOP to keep control of the seat as Flake remains very unpopular. Popular Rep. Martha McSally leads the pack of Republicans in polling, but not far behind is conservative firebrand Kelli Ward, who nearly unseated Sen. John McCain in a primary challenge two years ago. Another interesting twist was the entry of Trump supporter and former Maricopa County Sheriff Joe Arpaio, who was pardoned by Trump a few months ago. Democrats appear poised to nominate Rep. Kyrsten Sinema, who remains popular and has high name recognition in the state. Both Sinema and McSally are moderates within their party, so it would be an interesting match up for sure. My bet is on Sinema if the GOP nominee is Arpaio or Ward, but a true tossup with McSally. We will have to wait and see.

CALIFORNIA- (Dianne Feinstein, D)

SAFE DEM

- I usually do not comment on "safe" races, however, Sen. Dianne Feinstein could have a difficult time in the primary and general election if California Assembly Speaker Kevin DeLeon runs a strong campaign. Mr. DeLeon has been a staunch critic of the Trump administration and believes Ms. Feinstein caves into Trump too much. He would certainly be more liberal than Ms. Feinstein, however, her popularity among the general public remains good and there are no signs she is in extreme danger of losing her seat at this point. Watch this one as we near the primary.

FLORIDA - (Bill Nelson, D)

TILTS DEM

- Sen. Bill Nelson is running and remains a popular figure in the state. The big question will be if Rick Scott, the Republican governor jumps in the race. Even so, most polls still show Nelson with a slight edge, and considering the Democrats likely edge in the electorate, I am keeping this one in the Democratic column for now.

INDIANA - (Joe Donnelly, D)

TOSSUP

- Sen. Joe Donnelly is likely to face a competitive GOP challenger. Given the states history of electing moderate Democrats, he may have a chance of winning again, especially if his challenger is like the one he faced in 2012... a a controversial conservative Richard Mourdock who served as Treasurer of Indiana.

MAINE - (Angus King, I/D)

LIKELY IND

- Sen. Angus King, an Independent who caucuses with the Democrats is not likely to face any major opposition. Maine has a history of electing independent candidates to federal offices and King remains relatively popular. I will say the odds are highly in his favor.

MICHIGAN - (Debbie Stabenow, D)

LIKELY DEM

- Sen. Debbie Stabenow remains popular and faces no major opposition at this point in the race. Michigan is a state that leans Democratic, however, Donald Trump did win the state, albeit narrowly. For now Ms. Stabenow appears to be looking to another six year term.

MINNESOTA - (Amy Klobuchar, D) and (Tina Smith, D) -

LIKELY DEM

- Both of Minnesota's Senate seats will be on the ballot this November due to the departure of Sen. Al Franken. The regularly scheduled election will be Amy Klobuchar's race, which she is likely to win. She lost only one county in her last race, and remains popular. Tina Smith, who was appointed by Gov. Mark Dayton, will serve the remainder of Sen. Franken's term and is running in the Special election to fill the remainder of his term. Ms. Smith will not likely face any major Democratic opposition, however, there could be a high profile Republican or two who could enter the race. For now, due to the Democratic lean of the state, i'd say Ms. Smith will likely coast to victory, but we will have to see who the GOP candidates are to get a better idea.

MISSOURI - (Claire McCaskill, D)-

TILTS DEM

- I'm probably the only one to think so at the moment, but I am feeling bullish about Sen. Claire McCaskill. She has pulled off close races before, and her willingness to work with President Trump has proved to benefit her image among moderate Republicans who may be willing to cross party lines.

MONTANA - (Jon Tester, D)-

LIKELY DEM

- Sen. Jon Tester is probably one of few Democrats who could still win in Montana. Though there are progressive areas like Missoula and Butte, the state is still a GOP stronghold. I believe with Tester's ability to appease progressives while also appeasing moderates, he can certainly coast to victory to another term.

NEVADA - (Dean Heller, R)-

TILTS DEM

- Sen. Dean Heller is in trouble. A state Hillary Clinton won in 2016 and the growing Latino population, as well as a year that appears to likely favor Democrats, he is going to have an uphill battle. Rep. Jacky Rosen, a popular figure in Clark County has entered the race, and begins with an edge. Mr. Heller very well could make inroads, but in a year as turbulent as 2018, there are other places I believe could be closer.

NORTH DAKOTA- (Heidi Heitkamp, D)-

TILTS DEM

- Along with Sen. Joe Manchin, Sen. Heidi Heitkamp has been one of a few Democrats who have had a good relationship with President Trump. This will certainly benefit her in November, but we cannot forget the fact that this is a state Trump won by double digits. I still think Heidi Heitkamp has the edge due to her willingness to work across the aisle and her favorable ratings.

OHIO- (Sherrod Brown, D)-

TILTS DEM

- Normally, I would think Sen. Sherrod Brown should have an easy ride, but I'm not so sure he will. He is much more liberal than the state as a whole, and has seen his favorable numbers fall. Josh Mandel, a popular GOP figure dropped out of the race, and most of the other well known Republicans are running for Governor so he may be lucky and squeak it out. Either way, this will certainly be one to continue watching.

PENNSYLVANIA- (Bob Casey, D)-

LIKELY DEM

- Sen. Bob Casey will likely face Rep. Lou Barletta in the general election. Mr. Barletta, a staunch Trump supporter, has little name recognition and is likely to have trouble peeling voters away from popular Sen. Bob Casey. Mr. Casey is socially moderate, while fiscally liberal, which will attract blue collar voters which Barletta needs to have any hope for victory. There is no reason at this time to believe Sen. Casey will have any problem winning the votes he needs.

TENNESSEE- (Bob Corker, R)-

TILTS REP

- Sen. Bob Corker is retiring, and the race in my opinion is a squeaker. Rep. Marsha Blackburn normally would have an easy victory, but the fact that a very popular former Governor, Phil Bredesen is running, she will have a much more difficult path to victory. Mr. Bredesen never had close races. He performed much better than most Democrats would in this conservative stronghold, but his moderate positions and personal likability have made this race become much closer.

WEST VIRGINIA- (Joe Manchin, D)-

TILTS DEM

- Sen. Joe Manchin is a miracle. A state that gave Donald Trump one of his largest victories is represented by a Democrat... a miracle! But Mr. Manchin is the most conservative Democrat in the Senate and has a decent relationship with President Trump. West Virginia has seen a massive shift in voting patterns over the last 20 years. A state that formerly was heavily Democratic with a high presence of unionized labor has turned red. Mainly due to disagreements over coal and environmental issues, as well as social issues. Only three in ten believe that same-sex couples should be recognized, the lowest in the country. Nevertheless, Mr. Manchin is liberal on economic policy and conservative on everything else, which fits the mold of the state.

WISCONSIN- (Tammy Baldwin, D)-

LIKELY DEM

- Sen. Tammy Baldwin will likely not face heavy opposition and will likely be re-elected. I do want to stress that this was a state that narrowly voted for Trump, and kept Gov. Scott Walker in power. The Democrats have underestimated the performance of the GOP in this state, so it very well could develop into an interesting race, but for now, I believe Ms. Baldwin is a safe bet for re-election.