Ruscism = Russian fascism
DP Veteran
Joined

Apr 18, 2013
Messages

85,267
Reaction score

70,535
Location
Gender

Male
Political Leaning

Independent
'We're Belarusians, Not A Russian Region': Protests Take Aim At Kremlin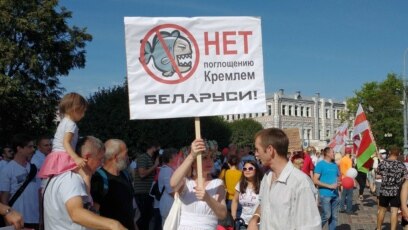 9/8/20

Belarusians have taken to the streets in the thousands every day since a disputed August 9 election, demanding authoritarian leader Alyaksandr Lukashenka step down after a vote they contend was rigged to hand him a landslide win over an opposition candidate who drew unprecedented support before the balloting. The protests have focused on domestic issues -- namely the future of Lukashenka, who has remained in power for 26 years by suppressing dissent, stifling the media, and staging a series of elections and other votes deemed undemocratic by opponents and international observers.

But on September 3 there was something new, according to observers: Amid the red-striped flags of the first independent Belarusian republic -- the main symbol of opposition to Lukashenka -- there were signs of anti-Kremlin sentiment and messages warning Moscow against meddling in the affairs of its much smaller western neighbor. Demonstrators held up signs reading, "We're Belarusians, not a Russian region," and "Putin, who are you with?" according to the Telegram channel Nexta.

The September 3 protest followed a meeting earlier that day in Minsk between Lukashenka and Russian Prime Minister Mikhail Mishustin, who reported that progress was made toward deeper integration under the aegis of a Russia-Belarus "Union State" that was created in the 1990s but exists largely on paper. Opposition leader Syatlana Tsikhanouskaya, who claims she won the August 9 election with 60 to 70 percent of the vote, denounced the meeting. Tsikhanouskaya, now in Lithuania after arriving in the neighboring state shortly after the election under still-unclear circumstances, said that the sovereignty of Belarus cannot become a bargaining chip and that she doubted that "any decisions and agreements Lukashenka may sign will be recognized by the new government" -- meaning a post-Lukashenka government. Indications that Lukashenka may be bending over backwards to please the Kremlin, and increasingly taking rhetorical cues from the Russian government, could change that. Ukrainian analyst Yevhen Mahda, executive director of the Kyiv-based Center for Social Relations, told RFE/RL's Belarus Service on September 5 that the Kremlin had "Lukashenka on a short leash...parroting the thoughts and words of Russian Foreign Minister Lavrov."
The Kremlin quid-pro-quo for supporting Lukashenka was predictable. Lukashenka must initiate bolder moves to integrate Belarus into the Russian Federation.
The ultimate Kremlin aim is to swallow up Belarus and extend Russia to the borders of Poland and Lithuania. Latvia and Estonia are already bordered by Russia on the east.
Belarussian opposition activist Olga Kovalkova has been forceably deported to Poland by the Lukashenka regime.....
Related:
Belarusian activist forcibly removed from country by security services