Joined

Nov 23, 2018
Messages

1
Reaction score

0
Gender

Male
Political Leaning

Undisclosed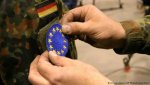 Recently, President of France Emmanuel Macron called upon on air of the Europe 1 radio station to create the European Army for defense against China, Russia, and the USA.
It should be pointed out that the debates on the united European army have been on for a few decades. This initiative is not something new, and the European players do not doubt of its necessity.
By the way, there are several approaches to the defense integration in the EU. They are: the Eurocorps - a tactical unit locating in Strasbourg; 18 battalion battle groups of the EU; the PESCO project (a permanent structural cooperation in the defense and security spheres). Also the agreements have been signed on creation of both the European defense foundation and the EU Response Force.
All in all, this direction has been developed, and there's nothing absolutely new in the Macron's claim. However, the urge of the French leader doesn't look like a wish-wash, taking into account the recent decision of the White House to withdraw from the Intermediate-Range Nuclear Forces Treaty.
Honestly, I'm not inspired by the possibility of both the rescission of the treaty and the location of American intermediate and low-range missiles on the territory of Europe.
The call of Macron to integration in the military sphere as well as the criticism towards Washington are interpreted by many experts as an attempt to decrease such possibilities because the location of the U.S. missiles not only will turn Europe into a hostage of Russian-American relations, but also will become a new security threat.
Obviously, the first step to resist the U.S. oppression as an ally within NATO is to get rid of the American military control by creating the European Army and being the only backer of our security. This's the only way for Europe to start real talks with Washington, and to avoid a victim's destiny.
I hope that statements of European leaders are based on real European needs, and are motivated not by personal ambitions and a strive for superiority, but by a care for security and sovereignty of Europe.