Not only is infanticide not offensive to Leftists, it's celebrated!!!
Do Democrats really think this is morally consistent, and a winning ticket?
Of course... blackface is only more offensive some of the time. It's why Megyn Kelly loses her job, and so many Leftist celebrities and politicians are still in business.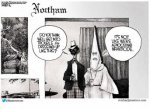 Last edited: