Joined

Sep 16, 2009
Messages

2,922
Reaction score

343
Gender

Male
Political Leaning

Conservative
I know Britain seems teeming with untrustworthy young hooligans, but the ones facing sanctions seem to be anything but the vermin:
Lidl store says teens too young to buy biscuits | Metro.co.uk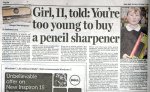 John Stapleton: Apple bobbing ban is health and safety madness - Manchester Evening News
Schoolboy banned from buying pack of Wine Gums... for being too young to drink | Mail Online
Video: Old enough to fight...too young to buy shoe polish!
, etc.
Previously I mentioned how a pet shop owner was caught in a 'sting' by oily Trading Standards sneaks, merely for selling a goldfish to a 14-year old who looked older than his years anyway:
http://www.debatepolitics.com/europe/69537-animal-cruelty-sell-goldfish-but-halals-ok.html

...But you can't punish the REAL criminals, oh no!
JAIL TOO BAD FOR BURGLARS, CRIES LEFT WING TURDPIPE:
http://www.dailymail.co.uk/news/article-1257309/Dont-burglars-jail-unless-hurt--courts-told.html
DON'T JAIL CAR THIEVES EITHER, RECKONS CANCER CELL REDWOOD:
http://www.telegraph.co.uk/news/new...dwood-dont-jail-burglars-and-car-thieves.html
KEEP THOSE OBVIOUSLY VALUABLE CRIMS ON THE STREET, SAYS WALKING AIDS VIRUS CLARKE:
http://www.dailymail.co.uk/news/article-1286287/Ken-Clarke-Dont-send-criminals-prison.html
Punishment's only fit for normal people now! They WANT society destablised, that's all you can conclude!
What is it with Britain today? When kids aren't even allowed to play conkers due to the 'danger', criminals are only threatened with punishment for not wearing 'hi-viz' jackets when going about their nefarity: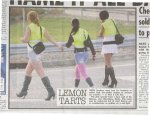 With these morons in charge, a minor perceived 'risk' is far worse and menacing than the TRUE, worse threats to society!
War on health and safety madness | The Sun |News
Health and safety says gravestones have to go | News
Health and safety insanity. Your personal experiences please « Singletrack Forum
swarb.co.uk • View topic - More school health and safety madness
Health & safety and other nonsense
, etc.
The Liberal-Left 'nanny state' has ruined Britain, empowering cretinous jobsworth scum with all the power they need to upset normal people and force more of a reliance on Government diktats than ever before.

And the really galling thing is that there's always some Liberal rectal smear prepared to leap in to defend the indefensible and continue the madness!
Last edited: