Covid19 is a very infectious disease, determined to be about 3 times more infectious than the common flu.
This does mean that each person who has the infection can end up passing the infection to as many as 59,000 people over 10 cycles
(each cycle being about 2-3 weeks). 10 cycles mean about 140 to 210 days (about 6 months). This certainly can be reduced if the person infected wears a mask, practices social isolation and it tested and found to be infected and then quarantined. The problem is that with Trump, none of this is important to him. He cares more about getting reelected than he cares about the health and safety of the nation.
On Sunday, Trump had an indoor
rally in Henderson, Nevada
and the pic included below is a pic of that rally that is estimated to have been at least 25,000 people and most not wearing masks or distancing socially.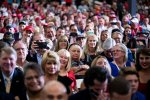 It has been estimated that at the very least 6 infected-with-the-virus people attended the rally and that suggests that they will have spread the disease to at least 18 more at the rally. You can do the math from there.
Nothing was done by the Trump administration to prevent this scenario. Even to the point that they could have decided to have the rally outdoors instead of indoors (which makes it more likely to cause the virus to spread). It was more expensive to do it outdoors.
Is this what a person in charge of a nation is supposed to do? Is this what insuring the safety and health of each citizen means?
Last edited: