Conservatarian
DP Veteran
Joined

Sep 28, 2011
Messages

11,986
Reaction score

7,391
Location
Gender

Male
Political Leaning

Conservative
On Jan 13th of this year an article appeared in FORBES pointing out that even for an Army of 100,000, Russians lacked trucks. His prediction of limited mobility has been born out.
Russia needs trucks. But it's woefully short.
www.forbes.com
And a recent article underscores the problem. At least 10 percent (I estimate closer to 12 to 14 precent) of the 4000 trucks in the 10 support brigades have been destroyed. The Russians have commendered civilian trucks and vehicles to limit the damage, but its not working.
A
ny way you slice it, the Ukrainian artillery gunners, missileers and TB2 drone operators probably have eliminated 10 percent of the Russians' battlefield supply assets while likely damaging or otherwise suppressing—by killing, wounding or capturing crews or fragmenting units—much more.

Embattled Russian logistics troops are spooked. "Reluctance to maneuver cross-country, lack of control of the air and limited bridging capabilities are preventing Russia from effectively resupplying their forward troops with even basic essentials such as food and fuel," the U.K. Defense Intelligence Agency reported on Thursday.

A desperate attempt to make good losses by commandeering civilian trucks could cause as many new problems as it seems to solve old ones. There's a reason armies buy custom-made trucks rather than simply painting civilian models brown or green.


Here is Russia's "fix"...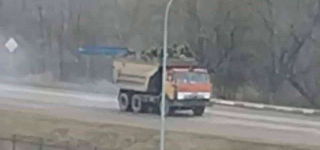 A dump truck with troops riding in it...