Joined

Sep 16, 2009
Messages

2,922
Reaction score

343
Gender

Male
Political Leaning

Conservative
THE RED PHEONIX HAS RISEN FROM ITS ASHES!
BBC News - Ed Miliband is elected leader of the Labour Party
Ed Milliband wants to take Labour to the Left, siding with the trade unions after it was their vote which swung the balance in the leadership vote.
Higher tax, a watered-down pledge to halve Britain's deficit and a general refusal to condemn strikers are amongst the party's juicy new policies.
It looks as if the Socialist past of Labour shall again be its future.
__________________________________________________ _____
OH COME YE, MY LEFT-WING TWUNTS!
"Dawn of a new old era" speech by Labour stalwart ('wart' being the operative word) JOHNATHAN LEFTWINGER, ex-Labour MP for the Asylum East constituency: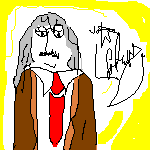 YES, isn't it absolutely lovely, you Public bigots!
The Labour Party can now start winning again as it's back on the road to glory!
I've served New Labour faithfully through its years of success, being rabidly politically correct and without common sense and scruple in other ways too. I was a man of consistent principle, through thick and thin mate.
BUT WHEN NEW LABOUR STARTS TO FAIL, YOU'VE JUST GOT TO DUMP IT AND GO BACK TO THE SUCCESSFUL WAYS OF OLD LA...
Well, alright, I know that failed as well.
BUT YOU'VE GOT TO ROTATE YOUR POLITICAL CROPS HAVEN'T YOU?! Makes for the best in dogmatic fertility.
Anyone can see that!
Look, when we get back to power as Old Labour, you're just going to have to put up with the fruits of a socialist government - such as wage claims, strikes, blackouts, hyper-inflation, loss of prestige in the international community, stifling of free enterprise, companies run from Whitehall, 96% rate of supertax, social division and class war. BUT THE POLITICS OF FAILURE WILL SUCCEED IN THE END, YOU JUST SEE IF THEY DON'T!
IT'S ME WHO'S GOING TO BLOODY SUFFER, YOU DISGUSTING PEOPLE!
Dumping Labour, the party of the Persons', HOW DARE YOU! I've got to change, got to dump all my principles again.
AND I'VE JUST SPENT THE LAST 12 YEARS LEARNING THE LAST LOT!
So how do we bridge the gap between Old and New Labour supporters
, I get asked by my trusted acolytes?
Well, my hyperactive and self-centred paranoid control freaks, I'll tell you!
WE HAVE TO FIND THE COMMON DENOMINATOR -
COMMUNISM!
COMMUNISM
is the common denominator because in both Old and New Labour we've enjoyed high stars of the party being Communists (or Communist sympathisers)!
New Labour's Communist Heritage and Pride
It's just so simple!
Aaah, our consistency and equilibrium can now return as we build on this common ground again!

VOTE LABOUR!
Whatever it is we'll stand for now in our heartfelt lifelong principles will DEFINITELY be fine and DEFINITELY be successful!
_______________________
Undiluted, pure left wing arsery to enjoy on this old Labour constituency homepage:
Don't LABOUR under your usual misapprehensions!
Last edited: