Lady of the house wonderin' where it's gonna stop
DP Veteran
Joined

Sep 23, 2006
Messages

10,184
Reaction score

3,377
Gender

Undisclosed
Political Leaning

Undisclosed
Consider also that these RWE "hacks" are chosen and intended as "time bombs". Justice Clarence Thomas elevated to the SCOTUS at age 42, this Trump appointed
judge, Trevor McFadden was nominated for the DC Federal Court at age 39...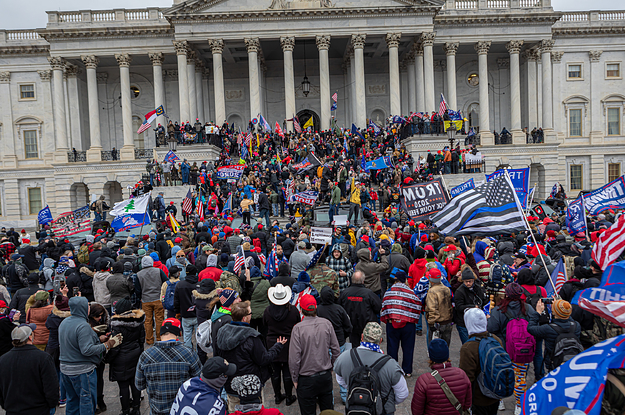 Matthew Martin, who described Jan. 6 as a "magical day," had faced misdemeanor charges for going into the Capitol during the insurrection.
www.buzzfeednews.com
Matthew Martin, who described Jan. 6 as a "magical day," had faced misdemeanor charges for going into the Capitol during the insurrection.
April 6, 2022
" A federal judge on Wednesday found that a New Mexico man "reasonably believed" that police officers let him into the US Capitol during the Jan. 6 breach, ...
Announcing his decision from the bench, US District Judge Trevor McFadden said that although prosecutors argued there were numerous instances when Martin would have been aware that he wasn't allowed on Capitol grounds or inside the building —
as he walked past fences with signs saying "AREA CLOSED" and recorded video of a broken window, blaring alarms, police in riot gear, and people who appeared to have encountered tear gas — those were outweighed by
Martin's "plausible" belief that he had permission because officers didn't try to stop him from entering.
..Martin's conduct was as "minimal and non-serious" as the judge could imagine for someone who went into the Capitol on Jan. 6. He said that Martin seemed to be a "silent observer" of the scene and didn't try to crowd the police, protest, or wave the "Trump" flag that he was carrying..."
Tenure​
...In June 2019, McFadden ruled ..
This ruling contradicted the 2015 ruling of the
.. in
U.S. House v. Azar
, in which the court found that then-Republican-controlled House of Representatives had standing in a lawsuit against President Obama's
Affordable Care Act
. In September 2020, the
U.S. Court of Appeals for the D.C. Circuit
overturned McFadden's decision and reinstated the House's lawsuit. ..the appellate court held that a single chamber of Congress has "standing to pursue litigation against the Executive for injury to its legislative rights"; ,,the Trump administration's argument .. as a position that "turns the constitutional order upside down."
..chairman of the
House Ways and Means Committee
, has litigated to obtain Trump's tax returns, but McFadden has ruled other matters should be litigated prior to any such release. ..
...
In February 2021, ...McFadden granted Cudd's request to travel to
Riviera Maya
in Mexico.." on the grounds that she had no previous criminal history, with no objection from Cudd's pretrial services officer or the prosecutor. Subsequent to Cudd's filing of her travel request, she was indicted on five federal counts, including one felony, relating to her alleged activities during the
January 6, ..Capitol
.
McFadden also ..suggesting that the January 6 Capitol rioters were being treated more harshly than the rioters in the 2020 Black Lives Matter protests.
"The US Attorney's Office would have more credibility if it was even-handed in its concern about riots and mobs in the city," said McFadden during sentencing for one of the Capitol rioters. ..."
Memberships​
..
Federalist Society
since 2003. .."
Bill Pryor, chief judge of the federal appeals court in Atlanta, has been cleared of allegations of wrongdoing in that he hired a law clerk accused of sending racist and xenophobic texts.
www.ajc.com
The Atlanta Journal-Constitution
Jan 14, 2022
"...
Pryor, the former Alabama attorney general who was appointed to the 11th Circuit by President George W. Bush, and Maze both declined to comment on the court's ruling.
According to published reports, Clanton, while working as national field director for a conservative student group, sent a colleague a text message that read, "I HATE BLACK PEOPLE. Like (expletive) them all." She also allegedly sent text messages demeaning Muslims...."