Joined

Feb 26, 2012
Messages

56,981
Reaction score

27,029
Location
Gender

Male
Political Leaning

Private
The £250,000 hamburger: First test tube-grown beef will be served in London restaurant this week
The artificial burger will be cooked and served for the first time this week
It cost in the region of £250,000 to produce the prototype
The 5oz beef burger is grown from the stem cells of one cow
Creator Professor Mark Post believes the development could help solve problems in the meat industry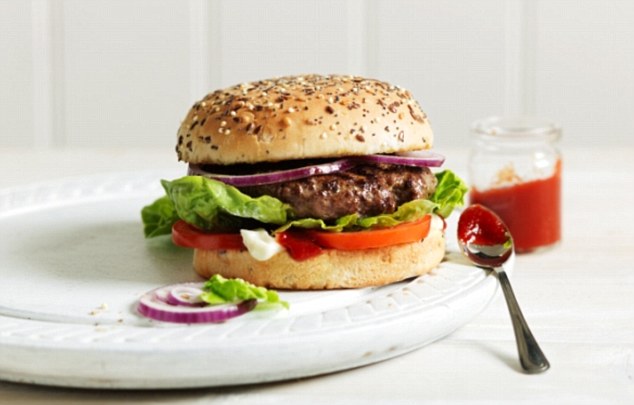 The world's first test-tube burger will be served in London next week. It is made from meat grown in a laboratory, rather than cattle raised in pastures.
And its developers hope it will show how the soaring global demand for protein can be met without the need for vast herds of cattle.
The 5oz 'Frankenburger', which cost £250,000 to produce, is made from 3,000 tiny strips of meat grown from the stem cells of a cow.
The raw meat is said to be grey with a slippery texture similar to squid or scallop.
A four-step technique is used to turn stem cells from animal flesh into a burger.
First, the stem cells are stripped from the cow's muscle.
Next, they are incubated in a nutrient broth until they multiply many times over, creating a sticky tissue with the consistency of an undercooked egg.
This 'wasted muscle' is then bulked up through the laboratory equivalent of exercise - it is anchored to Velcro and stretched.
Finally, 3,000 strips of the lab-grown meat are minced, and, along with 200 pieces of lab-grown animal fat, formed into a burger.
The process is still lengthy, as well as expensive, but it could take just six weeks from stem cell to supermarket shelf.
The cell-grown burger is produced with materials — including fetal calf serum, which used to grow the cells — that will eventually be replaced by materials not orginating from animals, the New York Times reported.
In-vitro meat or cultured meat is an animal flesh product that has never been part of a complete, living animal, and is quite different from imitation meat or meat substitutes, which are vegetarian foods made from vegetable proteins like soy.
Scientists say that it is possible the meat will be sold to the public within ten years.
It also reduces the amount of feed, water and fuel needed to produce beef.
Every kilo of meat requires 10 kilos of plant feed and oil, but cultured meat would only need two.....snip~
Read more:
£250,000 hamburger: First test tube-grown beef will be served in London restaurant this week | Mail Online
Follow us: @MailOnline on Twitter | DailyMail on Facebook
What do you think about this
? Lab created meat. They think even vegetarians would be able to eat this Meat. Moreover they say they can change the taste. Ad in fatty acids etc etc. It was never part of a living animal? They are even looking to take out the fetal calf serum. Straight out of Soylent Green.....huh?