Joined

May 6, 2016
Messages

1,888
Reaction score

456
Location
Gender

Male
Political Leaning

Independent
By now, it is no suprise that America's legal drinking age is 21. This was achieved in the National Minimum Drinking Age Act of 1984 in an effort to cut down on drunk driving which threatened to cut off 10% of highway funding to states which did not comply. Politicians have always remained silent about the legal drinking age; even bernie sanders who has won the support of many millennials remains silent about it. Now that elections are coming up, it is time to break the silence and here's why it should be lowered to 18.
1. Double standard: you are old enough to participate in the voting process, join the military, smoke tobacco (except in california), and buy a home at 18 but drinking responsibly requires too much maturity?
Alcolhol has become a big part of america's culture as seen in the extensive amount of beer commercials on sports channels. Smoking tobacco has become increasingly unpopular. Why do you only have to be 18 to smoke but 21 to drink then?
2. the rest of the world frowns upon this: here are all of the countries' legal drinking ages (pic below). The crimson ones have it set at 21 while the black ones are under prohibition. 14 countries have it a 21, only one of which does not have a muslim majority (take notes islamaphobes)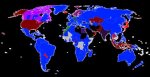 There are people who defend the legal drinking age saying that it saves lives. My counterargument is that banning cars saves even more lives.