...are the cowboy neocons now?
Ask Pres. Obama and he'll tell you his policies are nothing like Bush's policies. He doesn't torture prisoners! and so on. Of course, neither did Bush for the most part, and Obama never asked Congress to make waterboarding and other procedures illegal, so he can resume doing that any time he likes.
But the President speaks with forked tongue. In all the important ways his policies are Bush's policies. What a bunch of hippo crates these guys are!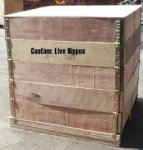 Hippo crate.
The secretary of state boiled with moral indignation

, American pride and war bluster. The defense secretary huffed that America has "moved assets in place" and is "ready" to punish the strongman. And though the president says he has yet to decide whether to attack, leaked details of the coming military action were all over the newspapers: Within "days," US Navy ships will launch a barrage of Tomahawks at selected targets.

Have George W. Bush and his band of cowboy neo-cons retaken the White House?

If only. This time the secretary of state is John Kerry, who launched a political career opposing the Vietnam War. The defense secretary? Chuck Hagel, who revived his career by quitting his party after the Iraq war